5 Ways to Create Subscription Box Descriptions That Sell
Last modified on August 1st, 2019
Writing product descriptions that describes your subscription box and items included in your subscription box sounds fairly straight forward right? But, this is something even experienced copywriters get wrong… Your descriptive copy should 'sell' your product, not just "describe" it. Think about it, the description is the first thing a customer sees and is your very first opportunity to convince them to purchase your product. Now you know this, lets look at a few clever ways you can optimize your product descriptions and create subscription box descriptions that sell.
1. Target Your Perfect Customer
It's easy to try to cater for everyone because you don't want to miss out on a customer right? However, writing generic copy because you don't want to miss out means that your description actually ends up being too vague and no-one ends up buying your product.
You should always consider taking a personal approach and imagine you are face to face with your ideal customer and are having a conversation about the product and how it can benefit them. You wouldn't use neutral, generic words like 'me' would you? This would only distance the buyer from the product because they would see it as a separate product and have no association to it and certainly no emotional connection to it. Emotional selling is a sales technique that cannot be ignored in the digital world. Imagine your ideal customer, what do they look like? What lifestyle do they lead? What type of personality do they have? How do they communicate and what words do they use? Using words like 'us' and 'you' and communicating with your customer almost as if they already own the product in question will only help. By stepping into your ideal customers shoes you can anticipate what questions, concerns and needs your customer has and have a relevant conversation that positions you perfectly for writing the best possible description for your subscription box.
Here is how BroBox describes their monthly subscription box:
Unique products made for Bro's shipped monthly. Joe Broskji says: Choose the plan that best suits your Bro: – BroShmo Single – The Wingman – BBF – Best Bro's Forever
You get the point!
2. Focus on the Benefits
When you sell your own products you live, breathe and sleep on how awesome it is and get excited about it's benefits and features. Your customers though, more often than not don't share the same excitement and are more interested in how it will add value to them than some geeky specifications. So, always focus on the 'benefits' of your product rather than the features. How is your subscription box going to make your life better. For example, Dollar Shave Club highlights the convenience and cost in time and money by saving you from having to make that early morning dash across to the local store so you can have a shave before work because you forgot to buy razors by automatically delivering them to your door every month.
Birchbox for example focus on how the popular subscription box is tailored towards your own personal profile rather than on what items are included in the box.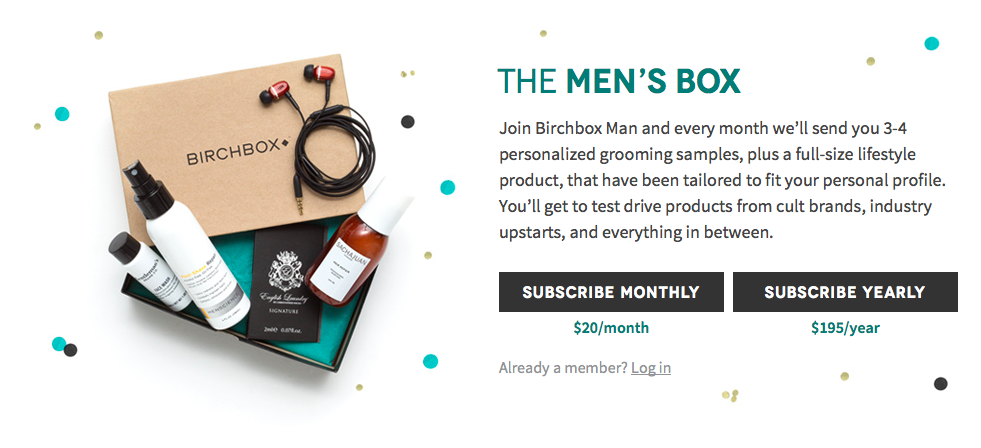 Pay close attention to how your subscription box benefits your customers. How does it improve their lifestyle or solve a problem they are currently experiencing? Focus on the experience not just the product.
3. Don't use 'Filler' Words
People are wising up. Trust us when we say they are getting bored with the same old corporate jargon. It's easy to just use standard 'filler' words to make your subscription box description look that little bit more attractive. But DON'T! Think of it like a resume who's opening line usually reads something like "A hardworking individual…" as soon as you read it you instantly think "yep, thats what everyone says". Well the same applies for product descriptions, don't turn your potential buyer off by using standard, boring words. be personable and focus on giving an impression of quality to your customer.
4. Easy on the Exclamation Marks
In all your excitement of writing a description for a product you think is cool don't get too carried away and sound like that annoying infomercial guy with the overuse of superlatives and exclamation marks! The more you use the more desperate you look and it can come across as untrustworthy. You need to get the right balance and ensure that your bold claims are justified and backed up. If your subscription box includes the world's most comfortable socks, ensure that there is some data confirming they are the worlds most comfortable socks!
5. Tell A Story
Telling a story is the ultimate way to make your customers forget that they are being sold to. By telling a story you are building a picture and encouraging your customers to visualise your product. It's less aggressive but as persuasive. Craft Coffee for example tell the story of how coffee is made and sourced from coffee roasters across the world.
Craft Coffee from Show Love on Vimeo.
6. BONUS: Include Testimonials & Reviews
People trust people and it's hard to gain the trust of a customer when they know you have a product to sell. Including testimonials from existing customers helps increase trust levels. If you've got it flaunt it, include as many testimonial & press coverage as you can. Include images of your customers or logo's of brands who have recommended your subscription box all adds to the credibility of your box.