14 Proven Strategies for Beating Cart Abandonment
Concerned about a high rate of cart abandonment in your online store? No worries — you're not alone. In the second quarter of 2021, a staggering 80.6% of US shoppers failed to complete their orders from mobile devices.
A long checkout process, slow website speed, and extra costs are only some of the reasons why customers abandon their shopping carts.
Luckily, with a few simple techniques under your belt, you can address their issues and keep your sales moving.
In this article, we've handpicked 14 powerful strategies for beating shopping cart abandonment on your online store.
But first, let's explain a few basics.
What Is Shopping Cart Abandonment?
Cart abandonment is when a customer adds an item to their shopping cart and then leaves it without making a purchase. You can calculate your store's cart abandonment rate by dividing the number of completed orders by the number of shopping carts that your potential buyers created.
When it comes to KPIs, your cart abandonment rate is just as important as your churn rate if you want to be sure your customers are happy when they're shopping with you. After all, the effects of shopping cart abandonment don't stop at lost sales. Abandoned carts can also affect your reported stock availability and make it more difficult to track other essential metrics.
Why Does Cart Abandonment Happen?
The top four reasons for cart abandonment are:
Extra costs (shipping, taxes, etc.)
Forced account creation
Slow delivery
A complicated checkout process
And it doesn't stop there. Declined credit cards, website problems, and a lack of trust can also prevent your customers from completing their purchase.
So what can you do? Just use a winning set of strategies to beat cart abandonment.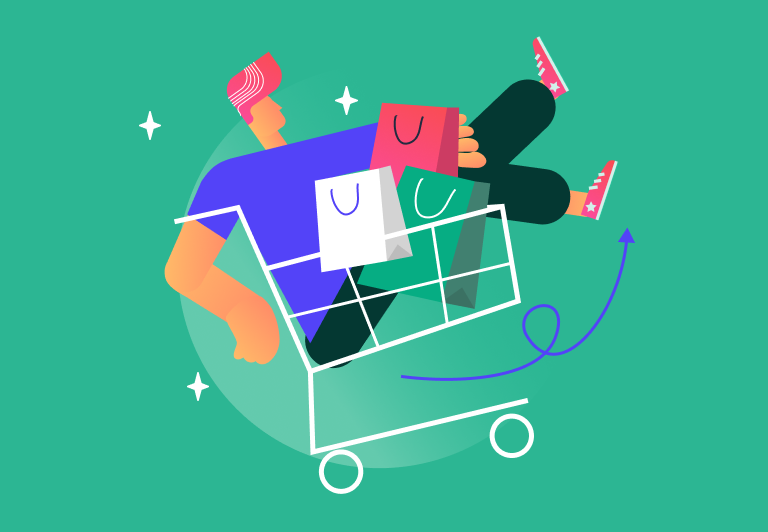 14 Effective Strategies for Preventing Cart Abandonment
Shopping cart abandonment is a problem that shouldn't be ignored. It indicates a low level of trust among potential customers towards your business, which is obviously not what you want.
Here are 14 strategies for tackling cart abandonment at your store.
Take Advantage of Email Retargeting
Email retargeting is a tactic that shows ads across different networks based on an email message your customer opened.
How can this help you decrease your cart abandonment rate?
It's simple. Just embed cookies in the email message you send to a customer who hasn't completed their order on your online store. After they open your email, they'll see an ad for your brand while they're browsing other websites.
Be Upfront about Extra Costs
Unexpected fees, taxes, and shipping costs can all scare your customers away from making a purchase. In fact, they're the reason behind nearly half of abandoned carts.
The solution? Inform your customers about any additional costs right away. If you can afford free shipping, consider adding it too.
Send Cart Abandonment Emails
When a potential buyer drops out of the checkout process, you have several hours to win them back. Follow up with a personalized message or send a reminder email. This strategy will entice your customers to complete their order.
If you need to speed up the buying process, consider including a link to the page they left in the email. Offering a nice discount in the message is another good way to encourage your shoppers to complete their purchase.
Shorten Your Checkout Process
18% of customers abandon a shopping cart because the checkout process took too long. You can avoid this problem with a one-step checkout or by reducing the number of actions required to complete a purchase.
You can also set up a quick-order system that lets customers register their payment methods for future purchases.
Create Effective Calls to Action in Your Checkout Process
This tactic will help your potential buyers understand every step of the checkout process better. To create strong calls to action, consider these two questions:
Does your CTA make it clear what your customers need to do in the next step?
What words or phrasing will prompt your customers to complete their purchase?
If you're curious about which call to action works better –– for example, 'Buy Now' versus 'Order Now' — conduct A/B testing with two different versions of your copy. The results will show you which copy option is best.
Optimize Your Website Speed
A buggy and slow website is another big reason why customers leave an online store. Visitors will also be less likely to trust you with their payment information if they experience a slow page load or sudden technical problem.
Boosting the speed of your website is an easy solution. It can even increase conversion rates by 2% in your online store.
Include Several Payment Methods
7% of buyers leave a shopping cart because they haven't found their preferred payment method. Go beyond regular debit or credit card options and add PayPal or even Apple Pay to decrease the cart abandonment rate in your store.
Having several payment methods is always a good idea, but sometimes online shoppers can't buy goods in your store because their credit card was declined. You can address this problem with a well-thought-out dunning process –– when you inform a customer about a failed payment and automatically retry it.
Offer a Guest Checkout
24% of online buyers leave a shopping cart because they're asked to create an account before purchase. You can win back these customers with a guest checkout that lets them buy items from your online store without registering for an account.
Make Navigation Seamless
Online buyers want to add their items to a cart and explore other goods in your store as soon as possible. The more time this takes, the more frustrated they become. This can also prompt them to leave your store without buying.
Make navigation between a shopping cart and your online store as effortless as possible. Your customers should be able to add their goods to a cart and easily return to the checkout when they're ready to buy.
Add Progress Indicators to Your Checkout Page
Everyone likes to know where they're going rather than being stuck in a process with no end in sight. Adding a number or visual meter that shows checkout progress can drive your shoppers to complete their purchase.
Include a Save for Later Button
A Save for Later button allows customers to create a wishlist of items to purchase later. This strategy will also help you bring down your cart abandonment rate.
Ensure a Solid Refund Policy
Refund policies are vital for online shoppers as they don't have the opportunity to see their items in person. If you offer a fair refund policy, it will reassure your customers when they're purchasing online. You can also include a reference to your policy in the early checkout steps to entice people to buy.
Add Trust Symbols to Reassure Your Customers
Fear of sharing personal information and payment details is another reason why shoppers don't purchase from online stores.
Consider acquiring and adding badges from trusted sources such as McAfee, Norton, TRUSTe, and BBB Accredited, Capterra, and Trustpilot to your online store to decrease your cart abandonment rate and grow your revenue.
Offer Live Support
Friendly support representatives who are always ready to assist customers at any time aren't just good for business — they can also help you tackle cart abandonment. Just add a live chat to your checkout flow, so shoppers can ask whatever questions they have about where to find items or how to buy them.
Bonus Tip 1: Build A Funnel To Offer Something Free During The Pre-Purchase Process
Offer something for free during the pre-purchase process to entice them to continue engaging with your offering and complete the transaction, confident that they've already obtained something of value.
Bonus Tip 2: Build A Funnel To Upsell During The Post-Purchase Process
Once customers have already finished the purchase process they were already going to complete (after seeing your impossible-to-resist offer), get in touch with them with an additional impossible-to-resist offer, tailored just to them.
Beat Online Shopping Cart Abandonment with Subbly
And we're done! That's a list of 14 unbeatable strategies for fighting shopping cart abandonment and boosting profits for your online store. And while putting them all into practice may feel like a daunting task, it's actually a no-brainer with an all-in-one solution like Subbly.
With our subscription-first platform, you can:
Edit email templates. Create up to three emails that will inform your potential buyers about an abandoned cart. You can do this in the Email templates section.
Set up a Zapier trigger. You can send emails to your customers automatically with the optional Subbly Zapier app. Once you've set up the right trigger, your customers will automatically receive an email when they leave their shopping carts before completing their purchases.
Set up an email sequence. Schedule when emails should be sent to customers who abandoned a shopping cart, whether it's on the third, fourth, or fifth day.
Track results easily. Keep an eye on how many of your target buyers left a shopping cart and how well your strategy to decrease cart abandonment is working. You can see these detailed statistics on your Subbly dashboard.
Want to try it out for yourself? We'd love to give you a taste of what our platform can do for you.
Just create an account, start your 14-day free trial, and see how you can begin easily tackling shopping cart abandonment and winning more customers today!