Step 1: Educate yourself
Before you start your own subscription business, whether you want to start a subscription box service or any other kind of subscription business model for that matter, it's good to make sure you're brushed up on all the basics first.
People have been making money from online subscription business models since at least 2004, but the industry didn't really kick off until 2012, and a lot has happened since then. While subscription boxes are still one of the most popular models, the model has been applied to dozens of other types of business too, from online content to access to services. The most successful subscription services follow a set of principles which underpin a lot of the advice we've shared here, which are worth reviewing early on in the process.
Now you've got a handle on the principles, here's a quick crash course on subscription businesses and some general context on the industry as a whole, a perfect way to make sure you start your subscription business journey with a solid education and a ton of inspiration.
Read more about the basics of subscription businesses
Step 2: Start planning
Now you know what's going on, it's time to get to work. The planning phase is a key part of building a strong foundation for success, no matter what model you're considering among all your subscription business ideas, box or otherwise.
While many subscription businesses launch without taking enough time to get a holistic understanding of everything they need to prepare for a successful launch, those that have taken the time to make sure they're deciding on the right subscription business model as well as validate their business idea and subscription cost have a much better chance of securing recurring revenue and rapid growth.
This is the perfect time to start focusing on customer type and product selection, two of the core principles behind every successful subscription-business. It's also worth having a think about costs, too, as the price of plugins can definitely stack up over time.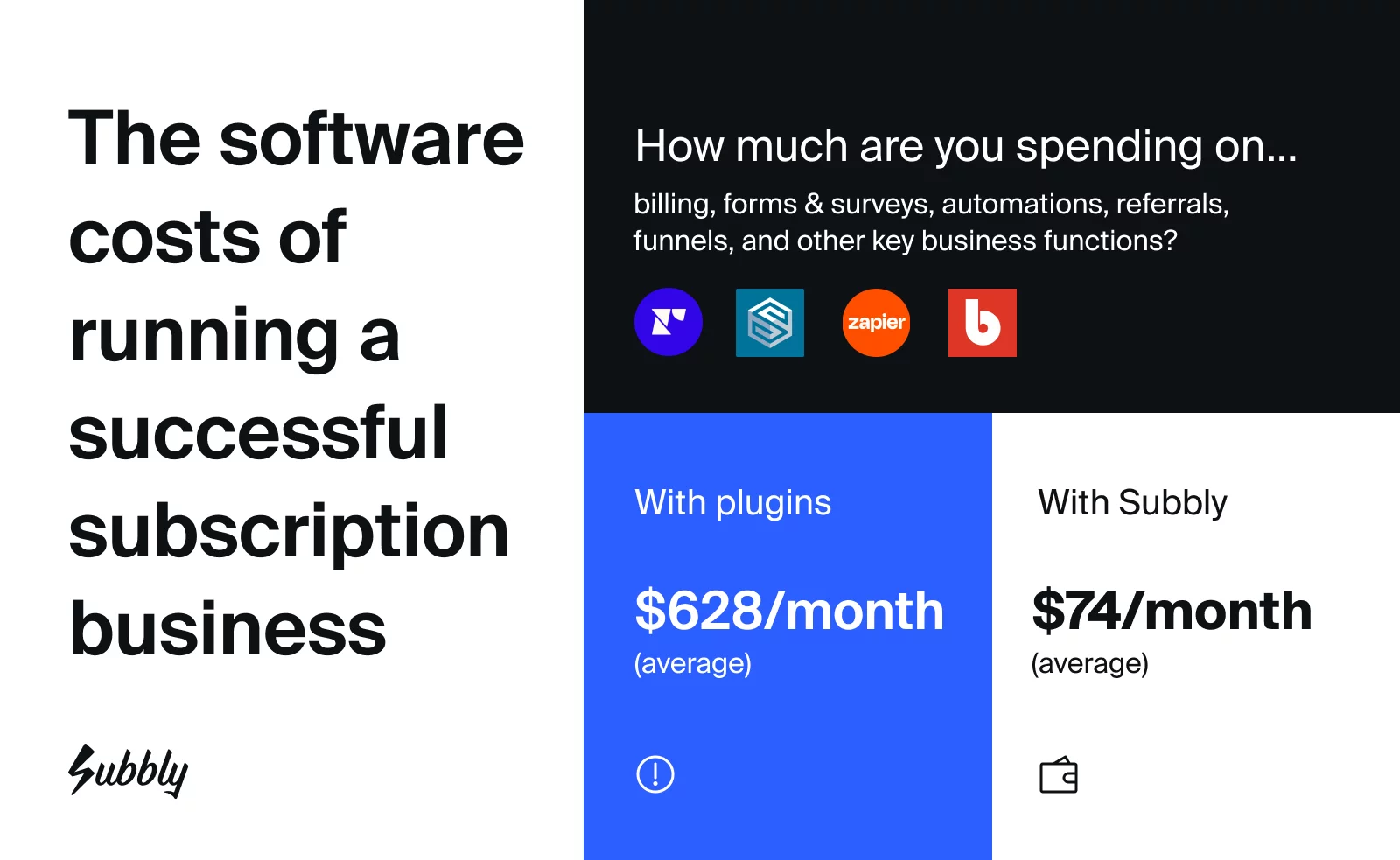 Source: Subbly competitor benchmarking
The following articles will make sure you have a full picture of all the major behind-the-scenes work you need to do before you start to bring your subscription offering to life.
Read more about the planning phase of starting a subscription business
Step 3: Set up your online store, fulfillment and shipping
Slowly but surely, your subscription business is starting to come to life. Now, it's time for the fun stuff. Keeping an operational focus and creating a framework for an integrated customer journey are key here, which entails everything from choosing a subscription box platform and setting up a website that's optimized for customer acquisition to planning logistics around customer convenience. It's all part of the game.
💡 Top Tip:
Don't forget to order a prototype box just to make sure everything looks good in person when it arrives - aesthetics and product integrity are hugely important in the subscription box industry.
The more thought you put into how you set all this up, the easier it'll be to scale once your loyal customer base starts to grow. Remember, it's best to use a platform designed for your business model – check out the differences between different subscription ecommerce solutions to help make your choice.
Keep reading for the the lowdown on the key aspects of this particularly important stage of entering the subscription market.
Start your 14 day free trial now!
Read more about the crucial operational aspects of starting a subscription box business
Step 4: Market and promote your box
It's almost time for liftoff, but you're not quite there yet. Now, it's time to start thinking about customer acquisition. As a new subscription business, there's so much you need to take into account before you launch, particularly when it comes to two of the other principles – demonstrating sales intent and building an integrated business model (for those also offering one-time products). A lot of questions should be going through your mind at this point:
How do you attract new customers, or, in a similar sense, make potential customers excited to start a subscription? What's your approach to marketing and promotion – social media marketing campaigns, a unique landing page to build up your email list, a fabulous unboxing experience, or something else?
"The simplest truth of a subscription box is that to engineer real success, you need to create an offering that people 1) easily understand and 2) believe they strongly need in their lives. If you can crack those two elements, you have yourself a real business with incredible potential"
Master your marketing and champion a top-notch customer experience that keeps the human touch intact, even if your customers are thousands of miles away, and watch your customer lifetime value skyrocket.
Read more about the marketing phase... you're almost there!
Step 5: Liftoff and beyond
T-minus 5… 4… 3… 2… 1… Liftoff! The good news is, you've made it. The other good news is that it's only uphill from here. Once you've launched your subscription box or other subscription model, tons of other factors come into play.
At this stage, customer retention and delighting your existing customers become just as important, if not more important than attracting new customers. Soliciting customer feedback throughout every stage of the customer journey should be a given too.
Tracking your metrics, from the income each subscription cycle contributing to your recurring monthly revenue to the monthly fees you're spending on third-party plugins is also critically important, while understanding how to forecast into the future doesn't hurt either… even if you're one of those founders that was ready to go live in just a few days.
We're as excited as you for the launch of your box. Here's everything to expect from the minute your company goes live onwards.
Read more to master these last few points before you launch. Good luck!
TL;DR
Congratulations! You've made it to the end of our blueprint for how to start a subscription business. At this point, there's probably a lot going through your head, so make sure to bookmark this page to refer back to alongside your notes as you progress along your newly-found entrepreneurial project. Remember – the less platforms and plugins you achieve to build your company, the easier things will be on a long-term basis. Almost every part of this guide can be achieved with Subbly, as thousands of our merchants have found over the years. We invite you to see for yourself – the first 2 weeks are on us.
Start for free today
Want to speed up your subscription business journey even more?
Check out our free subscription mini scrapbook today, featuring 15 tried and tested strategies and tactics used by the most successful subscription businesses to unlock major growth and revenue. Unlock lifetime access now!