Step 1: Do your research
The quick version: Don't skip out on the homework.
There's a lot of types of subscription business model, from the curation business model to the replenishment model and more. Arm yourself with knowledge and inspiration first before you start making mission-critical decisions. Let's get started!
Research: main points to consider
What is a subscription business model?
Subscription business models are all based around a simple concept: customers making recurring payments to a company in return for products or services. While there's many different types of subscription business, there's a few key categories that most will fall into.
Assess your idea against these general categories and find the right subscription business model for you.
Curated boxes — the most popular form of the subscription box business model out there, particularly when it comes to physical products.
Subscription box company examples: BusterBox (pictured), Burn Box, Kids Baking Club

✅ Opportunities
Almost unlimited amount of product types
Highly scalable… and thus has a high potential for profit
One-time products can be integrated into the offering
⚠️ Challenges
Lots of moving parts (logistics, fulfillment, inventory, sourcing)
High novelty value can lead to high churn if the selection's not fully optimized
Replenishment — a great option for products that people both rely on and run out of constantly, like snacks, coffee, body wash, home cleaning products and so on.
Replenishment model examples: Pure Roasters Coffee (pictured), Smol, Graze

"Done right, subscription customers are simply worth more. Plus, the subscription model allows us to predict our future order volume, which in turn lets us plan more effectively."
✅ Opportunities
People get super attached to replenishment subscriptions. Win their loyalty and watch your retention rate soar.
Get customers hooked with a discount for maximum conversion.
⚠️ Challenges
You're competing with products which people can buy in any store.
Without securing a bulk discount, your margins may be lower than you'd like.
Systems — Not dissimilar to replenishment, systems are built around some kind of base product or service (think a Nespresso machine) that can only be used with proprietary refills (think Nespresso capsules).
Systems model examples: Nespresso (pictured), Smile Direct, Beerwulf
✅ Opportunities
Tying people into hardware de-incentivizes churn if your product meets or exceeds their standards.

Product range can be easily expanded provided the physical 'refill' format stays the same.
⚠️ Challenges
People may create third-party refills that work with your base system and undercut your price (think Nespresso capsules vs the Amazon Basic version).

Prototyping a complex physical base product can take some significant research.
Fandoms — Think collectibles and other items associated with a specific, passion-driven niche market, such as limited edition video game merch, vintage sports cards, tabletop game equipment, and the like.
Fandoms model examples: Warpfire Minis (pictured), Collectible Card Club, Dungeon Crate

✅ Opportunities
Successfully planting a seed in a community can yield massive network effects.

Clever promotional campaigns can very quickly encourage the creation of user-generated content — free promotion for you and your brand!

Engaged fandoms will submit feedback and comments proactively, giving you an easy way to expand your subscription offering over time.
⚠️ Challenges
If you upset a community, it might take a while to recover your reputation.

However unique your offer is, if it doesn't come across as authentic enough it'll be much harder to gain traction.
Memberships and services — these often entail offerings enabling subscribers to achieve a goal, indulge in a particular activity, access exclusive content, or customer benefits like exclusive access to products and services. There's often also an element of community, or the opportunity to connect with like-minded people as well.
Membership examples: Dollar Shave Club (pictured), Netflix, Costco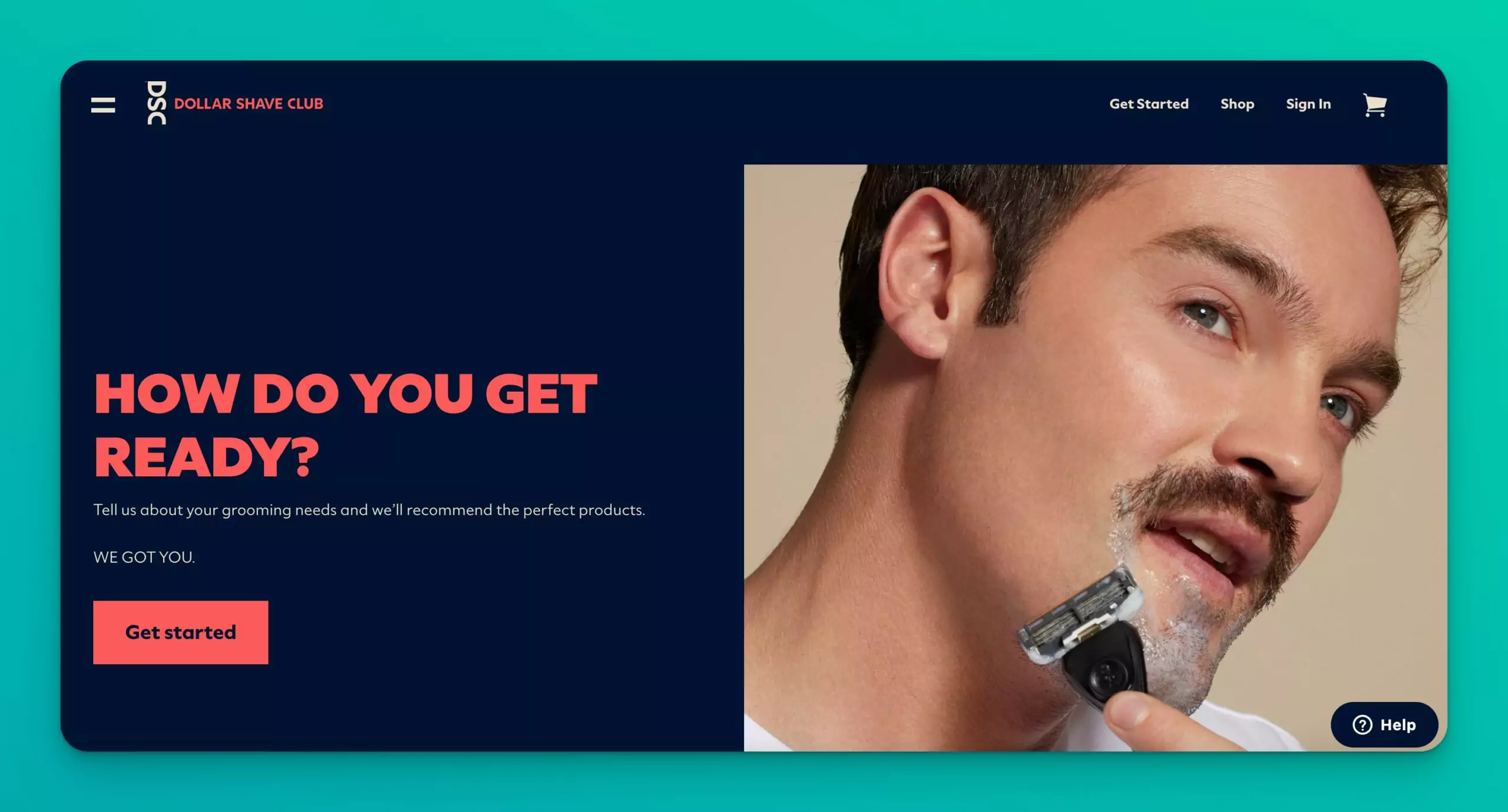 ✅ Opportunities
Easy to upsell one-time products to an engaged community

Works well for bricks-and-mortar and ecommerce businesses

Can be added to other subscription models
⚠️ Challenges
Offerings need to feel properly personalized to distinguish it from a broadly-targeted subscription — think individual diet plans vs a generic daily cardio workout video.

The 'premium' connotations of 'membership' mean expectations are much higher for both the customer experience as well as the value of the offering itself.
Further subscription box ideas and tips for all kinds of models can be found here.
How do you sell subscriptions?
First of all, don't make them an afterthought. There's a reason so many businesses are adopting a subscription-driven approach — and it's because they're realizing the inherent potential of creating an offering with communicable, tangible, long-term (ideally infinite) value.
Successfully selling subscriptions involves finding the perfect balance between product, value, and pricing.

When fully optimized for both conversion, retention, and churn, a subscription business model's flywheel of acquiring new subscribers, delivering a perfect customer experience, and becoming ingrained into their everyday lives will spin faster and faster, scaling exponentially in terms of recurring revenue.
What's the difference between subscriptions and memberships?
TL;DR… all memberships are subscriptions, not all subscriptions are memberships.
Membership business models have all the advantages of subscription business models, but focus even more on retention than their counterparts, offering member privileges, tailored product development, premium positioning, and a bigger focus on community building.
Step 2: Start planning
The quick version: Make a plan — leave no stone unturned.
Time to move on to the planning phase of starting your own subscription business.
Behind every successful launch is a solid plan. It's a key part of building a strong foundation for success, no matter what model you're considering among all your subscription business ideas, box or otherwise.
If you're starting a new business idea from scratch, keep reading.
If you're adding subscriptions to an existing business, take a quick detour via this article.
Planning: main points to consider
How to create a business plan
All successful businesses start with a plan. We'll walk you through it! Here's an overview of the key elements of any solid subscription business plan.
Executive summary

— an intro to your business plan, including your business name, mission statement, a description of your offering, and an overview of all the following sections. It's easiest to write this after you've finished all the other steps.

Problem and solution

— an outline of the problems your subscription box can solve which validates it in context.

Target audience

— a breakdown of your target market, categorized in a contextually appropriate manner according to

age,

location,

income bracket,

education,

profession,

lifestyle

and more…

Value proposition and competitor analysis

— a thorough deep dive into how you solve your target audience's pain points and how your approach compares to your competitors.

Pricing strategy

— don't leave anything out, from your product cost to your platform and shipping fees.

Sales and marketing framework

— identify the most important channels to promote your offering, from SEO and email marketing to influencer marketing and initiatives to encourage the creation of user-generated content.

Operational costs

— logistics, packing, fulfillment, shipping… make sure you have a finger on the pulse of what's costing you money behind the scenes.

Team

— whether you're a single person, a full-on team, or somewhere in the middle, make sure you detail all the people involved in your operation and what their roles are.

Potential risks

— nothing is perfect, so be honest here.

Financial plan

— include your operational costs as well as your sales and revenue forecasts, expenses, cash flow statement, break even analysis, tax breakdown, and anything else you may need.

Appendix

— anything that doesn't fit in the rest of the plan, stick here.
How to source products for subscription boxes
We glossed over sourcing products for subscription boxes in the previous section, but there's a few more concepts here that are important to internalize, which can easily be split into the what and the where.
The what — what are you going to sell? To get a solid grip on your product procurement strategy, find out what your target market wants, what stories will resonate with them, what opportunities exist to improve existing opportunities in their niche, before moving on to…
The where — where are you going to find these products? From Etsy to eBay, to Instagram and beyond, there's plenty of places for you to find high-quality suppliers for your subscription products.
Get inspired — if you know the general subscription box theme you're looking for and are looking for a bit of inspiration, take a browse through some of our favorite examples of subscription box ideas.
Product packaging: a summary
The physical packaging of your subscription box is hugely important for 2 reasons:
Its appearance, inside and out, is a direct reflection of your brand's attention to detail — keeping everything aligned with your brand identity is key. The unboxing experience is a particularly important touchpoint in this regard (more on this later).

It's robustness, inside and out, is directly correlated to the condition your products will arrive in upon delivery
Consider custom packaging as a way to both showcase your brand and ensure that everything gets to its destination intact and in perfect condition.
How to price your subscription offering
Pricing your subscription box service is always a tricky topic, but we've got you covered.
Broadly speaking, there's 2 kinds of pricing model you can follow: fixed pricing, and tiered pricing.
Fixed pricing means you'll have one box type with a predefined selection of products at a single price, often charged on a monthly fee basis. It's the easiest pricing model to start off with, and gives you more time to focus on important early-stage aspects of your business like customer acquisition.
Tiered pricing means you'll have multiple types of subscription boxes with different selections of products at different price points. While a bit more complex to set up and manage, tiered pricing is a great way to meet a diverse range of needs and cater for a wider range of income brackets.
Overall, in terms of margin, try to aim for ~50%.
To come up with a final value, your pricing strategy should take into account the following costs (there may be others, depending on your individual business context):
Product purchase price (tip – try and get a wholesale discount)

Packaging and box materials (don't cheap out!)

Logistics (delivery and shipping costs)

Fulfillment (and associated labor)

Transaction fees (make sure

you know what you're paying

)

Marketing and promo costs (acquisition is cheaper than retention in the long run)

Industry average (don't undercut yourself too much)

"I didn't understand entirely how expensive tools and gear actually were. The biggest challenge is getting the products for the right price, especially as the smaller businesses we work with often have to charge high prices themselves just to make slim margins. This makes it harder to source enough products for a satisfying box."
Step 3: Set up your operational framework
The quick version: start things off on the right foot when it comes to ecommerce platform choice, website creation, shipping, and billing — it's hard to change back later.
Slowly but surely, your subscription business is starting to come to life. Now, it's time for the fun stuff.
Keeping an operational focus and creating a framework for an integrated customer journey are key here.
This entails everything from choosing a subscription box platform and setting up a website and online store optimized for customer acquisition, to planning logistics around customer convenience. It's all part of the subscription-based model game.
💡Top Tip
Don't forget to order a prototype box just to make sure everything looks good in person when it arrives - aesthetics and product integrity are hugely important in the subscription box industry.
The more thought you put into how you set all this up, the easier it'll be to scale once your loyal customer base starts to grow. Remember, it's best to use a platform designed for your business model – check out the differences between different subscription ecommerce solutions to help make your choice.
Setting up your operational framework: main points to consider
Choosing a platform
Simplicity is key here. Pick a subscription ecommerce platform that works for your unique model, but make sure to ensure that:
Your platform is built to scale (i.e., doesn't charge you per subscriber)

Your platform is secure, reliable, and frequently updated.

Y

our platform has as much as possible in one place, rather than requiring plugins for core functionality.

Key features include:

Subscription billing

Payment processing

Ability to handle one-time purchases

Cart functionality

No-code website builder

Customer areas

Customizable surveys and registration forms

Marketing tools

Analytics tools

Churn reduction tools

And more…
For more guidance on how to make the decision, check out this guide. Here's what one of our merchants had to say about choosing us over her previous solution.
"It was easy to migrate to Subbly from a WordPress site, powered by Shopify and Bold, and it's been great so far — our MRR is already up 13%! — Jill Lodato, Founder of Kids Baking Club
Setting up a website
There's a lot of different ways to set up a subscription box website, but if you're not a coder, your process will probably look a lot like this:
Choose a

website template

Create a logo, or upload your own

Create powerful headers and marketing copy on all your pages

Insert visual assets as needed to add some flair

Tweak the color scheme to align with your brand identity

Launch your website and refine over time
For some more tips on optimization, check out Subbly Expert Alex Fleck's webinar featuring 5 conversion hacks for your subscription box website.
Shipping and fulfillment
Shipping and fulfillment are concepts that will come up time and time again as you progress down your subscription box business journey.
Together, they refer to the process by which your subscription boxes are assembled and relocated from the warehouse (or your garage) to your subscribers' doors.
For subscribers, it's about the process of managing, tracking, and receiving their orders. Transparent, 2-way communication is majorly important here, as is making sure all packages are shipped both on time and undamaged. It's also important to have a think about how you'd process returns.
We've got a full post on logistics and shipping that you can read, but here's the key points:
Optimize your packaging design around its contents
🔥 Pro tip from Subbly Expert Jill Lodato
In the US, boxes 13oz and under ship first class. Anything over 13 oz will add another $3 to the base price. If you can strategically optimize your packaging to weigh 13oz or less, the savings will add up quickly!
Find a reputable shipping carrier

Consider setting up a shipping partnership to negotiate better rates

Label and print your boxes

Ship your boxes

Fulfillment is more about the middle stage between receiving your products from suppliers and packing them into boxes before they're handed off for shipping. It's a process that can be done in-house or outsourced:
In-house — you do everything yourself. For many subscription businesses, the big pro, especially when you're starting off, is that you'll get an in-depth look at every aspect of the process and oversee quality control while achieving significant cost savings. However, as you scale, you might decide to free up time by…
Outsourcing — you pay someone else to do it. It comes with its fair share of challenges and costs (think liability insurance, cleaning the warehouse space, paying for labor, training new employees, ensuring quality control), but if you find a proper shipping partner that you can trust, it's a worthy investment.
💪 Pro tip from Subbly Expert Ryan Culver
Outsourcing your fulfillment to an experienced external provider used to shipping thousands of packages a day can also give you access to a relationship with a postal consolidator — which can save you $1-4 per package compared to USPS, UPS, or FedEx direct.
Here's some more information on the fulfillment process, with a list of questions to ask potential fulfillment partners to save you the time and help ensure they're up to par.
Billing
The last part of this step is making sure your subscription billing framework is set up correctly.
So, what is subscription billing? In a nutshell, subscription billing is a process that allows merchants to automatically charge subscribers a pre-approved amount at pre-approved intervals in return for their goods and services.
A good subscription billing framework is optimized behind the scenes to ensure every aspect of the customer journey, at least those related to transactions, works as efficiently as possible. These aspects include:
The checkout process

Dunning sequences




Account management

Analytics

Revenue recognition

Payment processor choice
💡 Top Tip
We recommend offering multiple payment gateways, such as Stripe, PayPal, and Braintree for the most flexibility.
Once you've figured out your approach to subscription billing, it's time to move on to arguably the most fun part of setting up the business, at least for the creatively inclined.
Step 4 - Market and promote your box
The quick version: Get creative with your marketing and promotion initiatives — the more engagement you can stoke before you launch, the better!
It's almost time for liftoff, but you're not quite there yet. Now, it's time to start thinking about marketing and promotion. Both of these are key to customer acquisition, both in the initial stages and as you grow.
As a new subscription business, there's so much you need to take into account before you launch, particularly when it comes to two of the other principles – demonstrating sales intent and building an integrated business model.
A couple of questions should be going through your mind at this point:
How do you attract new customers, or, in a similar sense, make potential customers excited to start a subscription?

What's your approach to marketing and promotion – social media marketing campaigns, a unique landing page to build up your email list, a fabulous unboxing experience, or something else?
The philosophy that should guide your approach is summed up beautifully by this quote:
"The simplest truth of a subscription box is that to engineer real success, you need to create an offering that people 1) easily understand and 2) believe they strongly need in their lives. If you can crack those two elements, you have yourself a real business with incredible potential"
Now, let's discuss how to make it happen.
Marketing and promotion: main points to consider
Setting up a subscription marketing plan
Your marketing strategy will help you achieve a number of goals as you grow your business:
Acquiring new subscribers (particularly important in the early stage)

Increasing brand awareness

Combatting churn

Maximizing your retention rate
Here's a quick framework to help you set up a plan:
Understand the basics:

Get to know your customers and their journeys inside and out.

How?

Gather data through direct interaction and surveys.

Why? Use this knowledge to segment them, identify pain points, and communicate your value proposition appropriately.


Master the process:

Optimize your shopping experience as much as possible

How?

Highlight upsell opportunities, gamification initiatives, free trials, annual discounts, transparent pricing, and automatic renewals.

Why? The easier and more enticing it is to convert and stay on board, the more likely potential subscribers are to follow through.


Communicate effectively:

From crushing churn to promoting incentives for spreading the word, thoughtful, proactive and value-driven communication is key to all of your campaigns (more on this below).

How?

Set up automated email campaigns and provide excellent — blatantly accessible — customer support.

Why? Happy customers stick around — and in this case, it's about nurture, not nature.

That's the quick version — for a full, 9-step breakdown, check out our full guide on how to set up a subscription marketing strategy.
Bonus tips
Here's 3 tried-and-tested bonus subscription marketing techniques to consider when you're starting out — remember that iterating and experimentation are the best ways to maximize ROI!
Set up a free trial or a competition to win free products in return for posts on social media platforms — video content is even better.

Build a community through interacting in forums/Q&A sites, and growing your email list.

Optimize new product launches to drive demand and maximize urgency.
The unboxing experience
It's one thing for a subscriber to be convinced about your offering when they find your website and sign up. It's another when they actually receive the box.
The importance of the unboxing experience cannot be underestimated. It's a communication channel in and of itself.
The first delivery — the grand reveal where they hold your products in their hands — will set the tone for the rest of their journey. Wow them now: here's how!
5 aspects of an unforgettable unboxing experience
Keep these in mind when you're reviewing your prototype box — there's plenty more to explore on product unboxing once you're ready, but don't leave it too late!
Top quality items in the box

Well-designed and high-standard packaging materials

An intuitive unboxing process (opening the box to removing items)

Package personalization

Strategically placed CTAs to elicit user-generated content
Here's an example of a particularly adorable unboxing videos from one of our users, BusterBox:
View this post on Instagram
The art of communication
For a subscription service, the customer journey ideally never ends. This means you have an almost unlimited number of touchpoints and channels to communicate through — of which some definitely shouldn't be overlooked.
Transactional emails
Maximize deliverability with well-crafted subject lines and preview text, human sender names, and personalization — among other email best practices. Experiment with:
Weekly or monthly updates for existing customers

Welcome and onboarding emails

Unsubscribe emails

Order and shipping-related emails

Checkout confirmation emails

Any requests for testimonials, reviews, other personal insight.
Thank-you notes
Saying thank you is just as important in the business world as it is in the personal world. Subscribers love it when you highlight your appreciation — it brings them joy! To write the perfect thank-you letter:
Use subscribers' first names

Explain why you're reaching out to them

Add specific details about their purchase

Reiterate your gratitude

Sign off with your name — and maybe even a personalized offer for their next order
Customer feedback requests
If you don't know what's on your customers' minds, it'll be harder to develop your offering according to their actual needs. Reaching out to them personally via email, SMS, and phone is key to getting that all-powerful insight.
As Subbly merchant VinoMojo experienced, it wasn't easy to grow a community of members at the beginning when their product was still in their early stage. Asking the right questions, however, helped them bridge the gap.
"We were really pleased with our initial feedback, despite our rudimentary product. We thought this might be an issue for early adopters, but they were willing to put up with that as they knew they were getting great value. We worked on how we find and speak to our target audience too, and since, on top of more new subscribers, we've even seen an increase in member referrals."
Step 5 - Launch your box
The quick version: Counting down to liftoff is super exciting. Once you've launched, retention becomes of paramount importance, as does keeping a keen eye on your metrics across the board.
T-minus 5… 4… 3… 2… 1… Liftoff! The good news is, you've made it. The other good news is that it's only uphill from here. Once you've launched your subscription box or other subscription model, tons of other factors come into play. Are you ready to take the leap?
Launching your box: main points to consider
Preparing your pre-launch
The most basic form of a successful pre-launch campaign consists of 3 main elements:
Creating a distinctive landing page

— keep copy simple, and CTAs clear

Driving traffic to that landing page

— use social channels and influencers

Growing and nurturing the resulting email list

— set up automated campaigns interspersed with some personalized outreach.
As your pre-launch campaign winds down, don't lose momentum — create urgency, keep posting on socials, thank those who helped you, and make any last-minute tweaks.
Looking forward: metrics, forecasting, and reducing churn
Tracking your metrics, from the income each subscription cycle contributing to your recurring monthly revenue, to the monthly fees you're spending on third-party plugins is also critically important, while understanding how to forecast into the future doesn't hurt either. Churn also comes into play here — here's the scoop.
What metrics and KPIs should you be tracking?
Tracking your metrics never stops being important, but in a subscription context, some metrics are more important than others, and you don't have time to track them all. A selective approach to subscription business analytics is therefore key.
The most important subscription business metrics are those that indicate that you're delighting your customers and that they're a) converting fast, b) not churning, and c) becoming cheaper to attract and retain over time.
Here's the 4 we'd start with and the most basic form of how to calculate them.
Learn more about metrics with our handy guides
Understanding revenue forecasting
The more data you collect, and the more you optimize your offering, the more consistent your results will be, which helps a lot when it comes to revenue forecasting.
There's also the matter of calculating revenue recognition — both quite complex topics that are important to take into account as your business ages.
Conquer customer churn from early on
Churn is one of your biggest enemies when it comes to growing a subscription business. In summary, your churn rate is the number of subscribers you lose over a defined period of time.
There's 2 main flavors of churn:
Voluntary churn —

subscribers who make the active choice to unsubscribe from your offering.

Involuntary churn —

subscribers whose subscriptions end due to issues like declined credit cards or other circumstances 'out of their control'
Losing a few subscribers here and there might not feel like a big deal at the beginning, but it adds up over time, both for subscription box companies as well as other subscription services.
To reduce voluntary churn, reach out to your subscribers proactively (ideally personally) and find out what went wrong — at a minimum, set up surveys and automated emails asking them for feedback. It's all about understanding here.
To reduce involuntary churn, assess your dunning process and associated communication flows, and figure out where you can make the process smoother and easier to interact with.
The earlier on you implement processes designed to reduce subscription churn, the easier it'll be. It's as simple as that.
Top strategies for customer retention
Linked to the subject of churn is this very important point that we've re-iterated throughout this guide.
🔥 Don't forget!
It's significantly cheaper to retain a customer than to acquire a new one.
Fortunately, there's a lot of subscriber retention strategies you can try out — anything to move the needle and maximize lifetime value helps!
Creating automated offers that trigger at specified subscriber drop-off points

Communicating during and beyond the buying journey to maximize engagement

Analyzing common points from cancellation surveys and adapting your offer accordingly

Offer rewards and downgrade options to lower the subscription cost

Make sure all the crucial parts of the billing process are communicated well in advance
Managing acquisition and retention with one platform
"Subbly has fantastic marketing features which keep improving, making acquisition increasingly efficient over time. Plus, since Subbly is a subscription-first platform, it has great features for maximizing customer lifetime value and reducing churn."
What comes next?
Congratulations! You've made it to the end of our blueprint for how to start a subscription business. At this point, there's probably a lot going through your head, so make sure to bookmark this page to refer back to alongside your notes as you progress along your newly-found entrepreneurial project and grow your subscription box business.
Remember – less platforms and plugins makes things easier and more stable. Almost every part of this guide can be achieved with Subbly, as thousands of our merchants have found over the years. We invite you to see for yourself – the first 2 weeks are on us.
Start for free today!
For more insight into every aspect of running and growing a subscription business, check out the rest of our blog.
Want to speed up your subscription business journey even more?
Check out our free subscription mini scrapbook today, featuring 15 tried and tested strategies and tactics used by the most successful subscription businesses to unlock major growth and revenue. Unlock lifetime access now!