Top 14 SMS Marketing Ways to Grow Your Subscription Business with Subbly
Struggling to find the right communication channel to boost your subscription business? Doing it with SMS marketing might be your best bet.
Lower cart abandonment and increased engagement and retention rates are just a few advantages your subscription business can get. 80% of marketers in a recent survey reported that SMS marketing performed better than other communication channels. And again, more than 80% of business owners use this approach.
Interested in discovering how you can skyrocket your subscription business growth with SMS marketing? Read our article about the best fourteen practices.
But first, let's explain the basics.
What is SMS marketing?
This is an approach when a company communicates with its customers through text messages. SMS marketing is an owned channel. It means that you decide who will receive text messages about your brand, when you want to send them, and how often.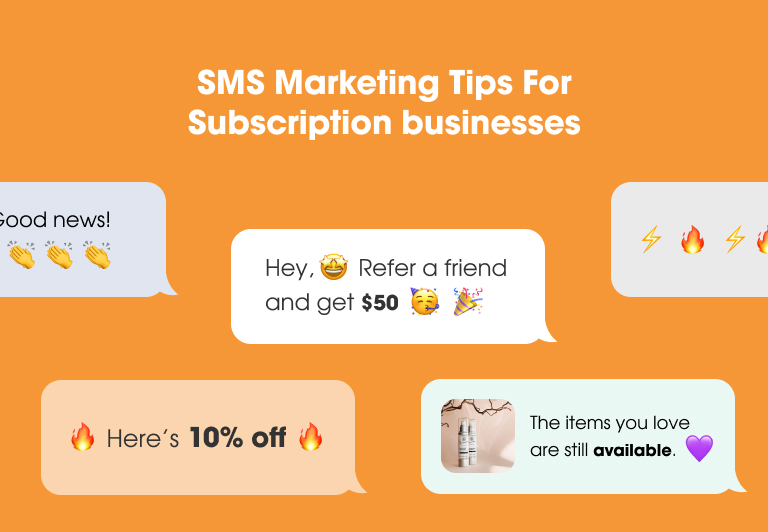 The best 14 SMS marketing practices
A single text message can generate a revenue of 25 cents from a customer, whereas one email can give you only 5 cents. The open rate of text messages is also higher — it's 98%, while emails have just 20%.
If you're looking for ways to increase your profits with SMS marketing, scroll down to read about the top fourteen practices we hand-picked for you.
1. Research your target audience
The more you know about your customers, the more relevant text messages you can send. But how can you identify your ideal client? Nick Leighton from Forbes suggests creating a customer persona. This tool will help you launch an effective communication strategy for your store. To create a customer persona, you need to:
Determine socio-demographic characteristics such as gender, age, location, and income.
Outline psychographic characteristics like values, opinions, and interests.
Give your customer personas a personality and describe what qualities they have — whether it's "chatty and brave Tom" or "curious and entrepreneurial Kate".
Find your ideal consumer and speak to them directly.
Once you've completed all these steps, you can start to create SMS marketing campaigns that your customers will love.
2. Get your customers' consent
First, you must get your customers to opt in, or agree to receive promotional messages from your business. It's not that hard to do. Just choose one of these opt-in practices:
Ask customers to text an SMS keyword, a five or six-letter word that subscribers send to your phone number if they want to receive special offers or updates from your service.
Use online forms to collect personal information about your customers, such as their names or birth dates.
If you're not sure if you need to get consent or not, consult with a legal professional.
3. Add disclaimers
The Cellular Telecommunications Industry Association (CTIA) is an association that represents the wireless communication industry in the US. When it comes to SMS marketing, it makes it mandatory to include "message and data rates may apply" in the opt-in form.
Your customers will see this information once — only when they join your subscription list.
4. Include the way out 
Along with the opt-in option, your SMS campaign must have the opt-out so your customers could easily unsubscribe from your services. This will also help you avoid penalties for non-compliance with the Telephone Consumer Protection Act (TCPA), the law that regulates telemarketing activities.
In addition to "message and data rates may apply" notice, you can include "txt stop to cancel." Your subscribers will see it only in your auto-reply, not in every text message you send them.
5. Use a personalized approach in your SMS marketing 
54% of customers report that if they receive a personalized message, they will be more likely to buy items from a company.
This strategy comes with a range of other benefits as well. Improved brand loyalty and higher open rates are just a few of them. Moreover, 70% of customers who get personalized messages are more likely to recommend your services to their friends or relatives.
6. Segment your customers
Need to engage your clients with SMS marketing? Don't worry, you're not alone here. Nearly 49% of B2C marketers say that it's their top priority to establish more meaningful connections with their target audience. Doing it with segmentation is a sure-fire option.
According to Forbes, if you break down your customer list into several groups and send tailored content to them, it will be easier to calculate your company's ROI.
7. Create short and concise text messages
63% of customers prefer to switch to a company that offers text messaging as a communication instrument. We compiled a list of handy tips that will help you write messages your clients would love:
Your text messages should be up to 160 characters long. However, the screen size and the text length are just some of the factors that influence the user experience of your SMS campaign.
Make your text messages brief and to the point.
Create catchy calls to action such as "Get 10% off on your next purchase", or "Sign up to discover more deals."
Try to avoid slang in your text messages. Keep your writing simple and casual.
Use these recommendations to spark your customer interest and ignite your sales.
8. Set a frequency cap on your SMS campaigns
Getting too many text messages is like overeating candies at Christmas. Too much sugar makes your stomach upset. The same idea goes for SMS marketing.
eMarketer found out that 30% of customers unsubscribed from SMS campaigns because they received too many text messages. How can you prevent this from happening to your store?
Just inform your clients about how many text messages they will receive per month in your initial SMS campaign.
9. Send your text messages at the right time
Let's imagine that your customer receives a text message from your store about tonight's sale at 9 pm. Seems that it's not the right time for sending your SMS campaign, and you should avoid doing that between 9 pm and 8 am.
If you're not sure about the right timing to send text messages, analyze at what time your customers interact with your texts most.
10. Inform your customers about exclusive deals
Another excellent way to engage or retain your customers is to include one-of-a-kind offers in your SMS campaigns. Hot sales and attractive discounts are something that your customers don't want to miss in your store.
11. Be responsive
If you plan to offer two-way messaging for sales or client service, instant replies to your customers' requests are a must. 60% of customers want to reply to text messages when they receive them. Once again, 60% of them would like to actively text a business about client support problems.
12. Send automated SMS drip campaigns
Eager to win back your customers who abandoned the shopping cart? No worries, you can do that with SMS drip campaigns — a set of automated messages businesses use to keep in touch with their clients. Creating them is easy. Just choose an SMS marketing tool like Subbly, and set time and frequency for sending text messages to your customers.
SMS drip campaigns work great for welcoming new shoppers in your online store or engaging your prospects with the brand.
13. Collect feedback from your clients
Client feedback is crucial for business growth. This strategy will help you improve your products, create more relevant content for SMS marketing, and monitor the level of client satisfaction.
14. Integrate SMS marketing with other channels
To attract even more customers to your store, try to integrate your SMS marketing with these communication channels:
Email marketing. Fuel your subscription business with an email and SMS marketing combo. How? Just start sending emails, and if your customers don't respond, use text messages instead.
Social media marketing. Expand your audience reach to pull more customers into your online store. You can also use social media platforms to encourage clients to opt into your SMS marketing campaign.
Live chat. Turn your store visitors into loyal shoppers by integrating live chat with an SMS subscription. This approach will help you grow the list of customers who receive text messages from your brand.
Here is a pro tip for you: choose the communication channel where your buyers interact with your business most.
Take advantage of SMS marketing with Subbly!
How can you grow your recurring revenue with SMS campaigns? Get Subbly on board! With our all-in-one subscription service, you can:
Set up Twilio to automate your SMS marketing campaigns. Twilio is an app helping businesses strengthen their communication with customers. To install it on Subbly, use your Twilio credentials (a username and password) and set up a trigger event for your SMS campaign, for example, cart abandonment or order shipment.
Automate sending text messages in several clicks. Would you like to give a warm greeting to your new customers or send a text message with a juicy discount? Nail it with Subbly in just a few minutes.
If you want to check out the full range of possibilities that our subscription service can offer for your online store, create an account and start your 14-day free trial today!