What is a Shopify subscription app?
Shopify subscription apps, sometimes known as Shopify subscription plugins, are third party developed that integrate with your existing Shopify setup to add some degree of subscription features. The main thing to note here is that these apps exist mostly because Shopify's base platform is not built for subscription business models, and is missing a lot of the core features that allow for a subscription business to sell their own subscriptions effectively.
Shopify subscription apps: 3 crucial reminders
Subscription apps and subscription plugins come in all shapes and sizes. Subscription apps for Shopify in particular are interesting because while they do in fact extend the default functionality, there's definitely a few points to note before you start relying on plugins over choosing an all-in-one solution, especially as your monthly subscription sales begin to rise.
Subscription apps for Shopify are not developed by Shopify themselves. This means that the app and Shopify will evolve at different paces, and may not always be 100% stable all the time. The alternative is to use an all-in-one subscription ecommerce platform, which ensures that bugs, errors and downtime are kept at a minimum.
Subscription management is a highly nuanced topic.

Each of the subscription apps out there approaches it differently, and using more than one at a time might complicate things rather than make them easier if their use cases aren't in sync. Often, a single-platform solution with wide-ranging features that can adapt to any subscription business use case can deliver a much more focused experience.

Plugins can get expensive

. We've found the average

cost of running a subscription business

with plugins is over 6 times higher than with an all-in-one subscription program.
🤫 Secret approach: save money and headaches
Getting the same level of functionality through Shopify plugins can run you as much as $469/month on average, versus $74/month on average for Subbly's all-in-one solution.
The best Shopify subscription apps
There's dozens of subscription apps on the Shopify app store, but which ones are contenders for the best Shopify subscription app? There are many other subscription apps out there, but here's our list of 5 of the most popular. Let's dive in:
Subbly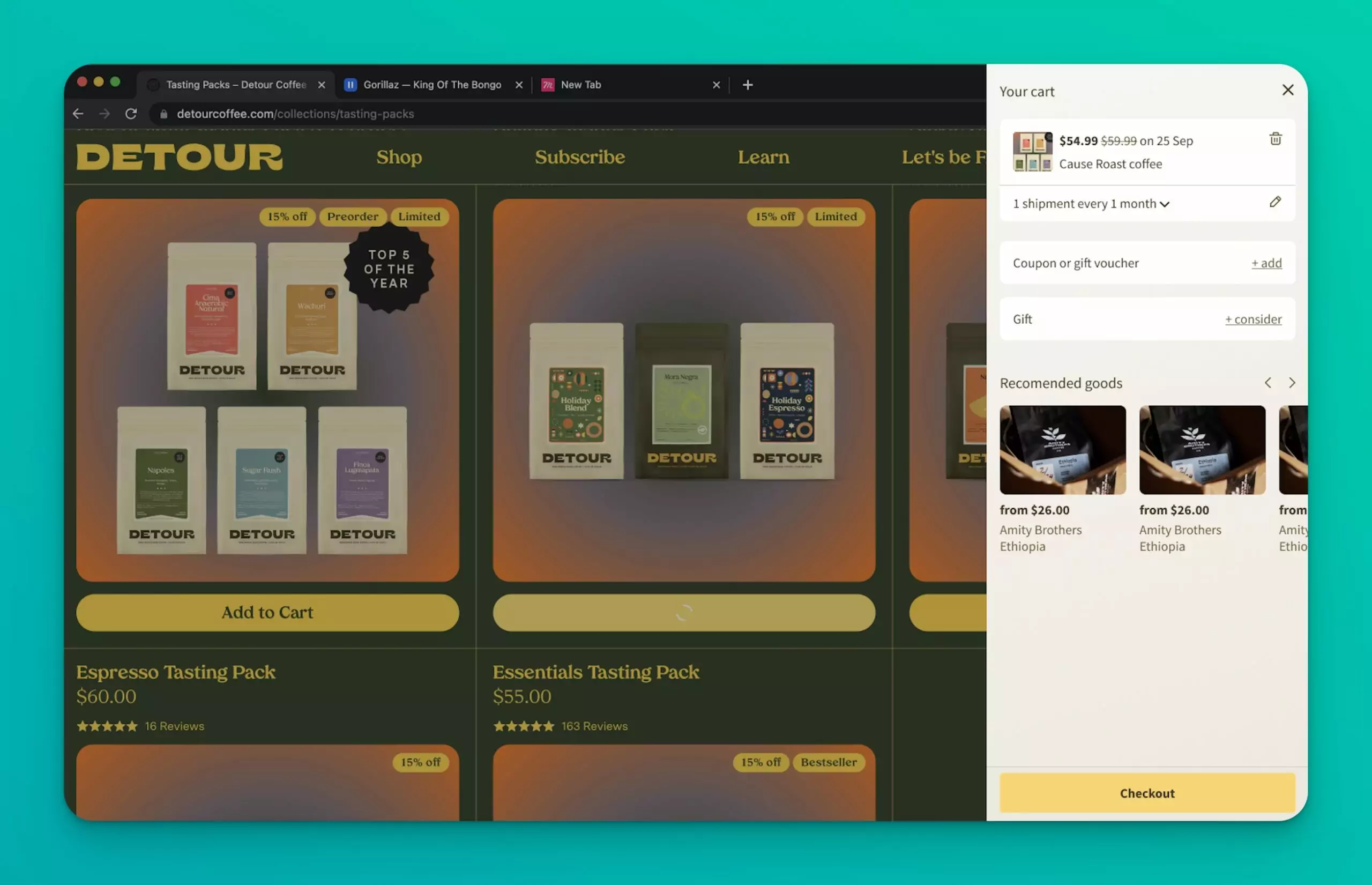 While Subbly isn't strictly on the Shopify app store, it's checkout functionality can be easily integrated into any Shopify store. It's a straightforward solution that allows you to ensure that your subscription products are being sold through an interface that has all the bells and whistles, from upsells to coupon codes. For more details, check out our full guide to integrating Subbly into Shopify.
Key features
Embeddable checkout available on all plan tiers

14 day free trial

API and developer tool access

Multiple payment gateways supported

Customizable branding and visuals
Pricing details
Bold Subscriptions

Bold Subscriptions for Shopify is a subscription plugin that allows users to sell subscription products or any kind of subscription service. Users can add as many subscription plans as they want to single products, product collections, or their entire stores, setting pricing options and tracking and fulfilling orders for maximum efficiency, while on the subscriber side, the customer portal allows for subscribers to view and modify their subscription status with ease.
Key features
All basic features included on their Core plan

60 day free trial

API and developer tool access

Cancellation flows and dunning tools

Multiple payment gateways supported
Pricing details
Monthly fees are set at $49.99/month, plus transaction fees of 1% on all subscription orders
PayWhirl Subscription Payments

PayWhirl Subscription Payments is another Shopify subscription app that allows users to integrate the subscription model into their business. The subscription plugin integrates with users' Shopify themes, and allows for unlimited subscriptions on all plans.
Key features
Multiple pricing tiers

Configurable customer portal

Cancellation flows, dunning tools, and other customer retention boosters

Customizable customer notifications

Subscription analytics with exportable data

Multi-language and international currency support
Pricing details
Free plan: zero transaction fees on first $5,00 processed, 3% after

Pro plan: $9/month, including a flat 2% transaction fee

Traction plan: $29/month, including flat 1.5% transaction fee

Scale plan: $149/month, including a 0.75% transaction fee
Recharge Subscriptions

Recharge Subscriptions is a popular Shopify subscription app that helps entrepreneurs sell subscriptions, maximize customer engagement, and increase long term customer loyalty. This subscription app allows for full customization of the merchant's Shopify store portal interface and comes with a flexible API and set of integrations.
Key features
Customizable customer portal

Manage subscriptions via SMS

API access and integration library

Payment processing and multi-currency support

Build-a-box capabilities

Unified Shopify checkout interface
Pricing details
Standard plan: $99/month, plus 1.25% and 19¢ per transaction

Pro plan: $499/month, plus 1% and 19¢ per transaction.
Seal Subscriptions & Loyalty

Seal Subscriptions is one of the best Shopify subscription apps currently on the market to generate recurring revenue. It provides a wide range of features allowing merchants to enable subscriptions, manage them, and increase customer lifetime value with ease.
Key features
Recurring payments management

Customer portal accessible via magic link

Configurable subscription discounts to retain customers

Subscription widget optimized for mobile

Zero transaction fee on subscription orders
Pricing details
Free plan: 150 subscriptions max

Supersale plan: 750 subscriptions max for $4.95/month or $41.58/year (30% saving)

Rising Star plan: 1,500 subscriptions max for $7.95/month or $66.78/year (30% saving)

Legend plan: 15,000 subscriptions max for $20/month or $168/year (30% saving)
Appstle Subscriptions

Appstle's powerful recurring billing and payments features make it one of the main contenders for any subscription business deciding which of the many Shopify subscription apps they're going to use. Merchants can take care of their subscription management needs with ease, create different kinds of subscription programs, and use their range of loyalty features to boost customer engagement throughout the whole customer journey.
Key features
Sell prepaid subscriptions as well as regular, recurring ones

Advanced and secure customer portal

Tiered discounts and other subscription revenue boosters

0% transaction fee on all plans

Customizable subscription widget (available on some plans)

Automation tools

24/7 support on all plans
Pricing details
Free plan: Free until you reach $500/month subscription revenue

Starter plan: $10/month or $96/year (20% savings) up to $5,000/month in revenue

Business plan: $30/month or $288/year (20% savings) up to $30,000/month in revenue

Business Premium plan: $100/month or $960/year (20% savings) up to $100,000/month in revenue
In conclusion
That's all for our list of the best Shopify subscription apps on the market.
Whatever your subscription model, you need the right software to run your business and manage customer subscriptions effectively, and while plugins are popular, the risks of relying on one or more platforms to run your business cannot be underestimated.
Browse the Shopify app store yourself and have a look, but to date, there's no single plugin that can provide as many features as an all-in-one platform like Subbly. The same rings true for BigCommerce subscription apps, WordPress membership plugins, Magento subscription plugins, Webflow subscription ecommerce solutions, and all the others!
Here's what our customers have to say!
"It was easy to migrate to Subbly from a WordPress site, powered by Shopify and Bold, and it's been great so far — our MRR is already up 13%! I'm also grateful to the team for helping me with the process — I had always heard that Subbly has the best help center and they were right. It is hands-down one of the best parts of Subbly." – Jill Lodato, Founder of Kids Baking Club
"Subbly really is built subscription first. Whereas you would need a lot of plugins and third-party apps to get started on other platforms like Shopify or WooCommerce, on Subbly, it's all built right in. It really ends up saving you money because you don't have to pay for a lot of apps." – Charmaine Merriweather, Founder of HUES Book Box
"I migrated as I wanted an all-in-one replacement for my Shopify/Bold setup. Subbly's in-house support answered all my questions in a fraction of the time that it would have taken Bold's impossible chatbot to connect me with a live agent." – Mike Greco, Founder of Coin & Currency Club
Try it yourself today – the first 14 days are on us!