What is a Magento subscription plugin?
A Magento subscription plugin (AKA extension) is a third-party program that can be added to your Magento setup. Magento plugins can include anything from accounting and finance extensions to subscription business metrics and analytics integrations — as well as subscription management tools.
🔥 Why are plugins needed?
The reason these plugins and extensions exist is because their specific functionalities are not built into Magento by default. This applies to non-subscription-related extensions too — across the board, users are often reliant on Magento extensions, plugins, and apps to run complex business models.
Magento subscription extensions: 3 crucial facts
It's easy to get lost in the huge range of Magento subscription extensions currently on their marketplace. Whichever combination you consider, just make sure you take into account these 3 important points before you commit!
Magento recurring payments and subscription extensions are externally developed. Third-party Magento apps and Magento itself are developed asynchronously, and may not always be up to date with each other in a way that can affect stability. Keeping bugs, errors and server downtime to a minimum is generally easier to guarantee with an all-in-one subscription ecommerce platform.
Every business has their own subscription management needs. It's a nuanced topic, and each Magento extension has its own approach. Using them in combination might not always result in a coherent, effective outcome, in contrast to the experience of using a single-platform solution.
The cost of extensions can quickly add up. Even if Magento is open source, most of the apps are privately developed and come with their own individual costs. The more you use, the higher those costs can stack — we found a plugin-heavy setup can

cost 6 times as much

as a more streamlined approach.
The best Magento subscription and recurring payments extensions
400+ matches for 'subscriptions' appear on the Magento App Store, but which ones are worthy of being called the best Magento subscription app? Here's our list of the most popular ones currently available for purchase or download.
Subbly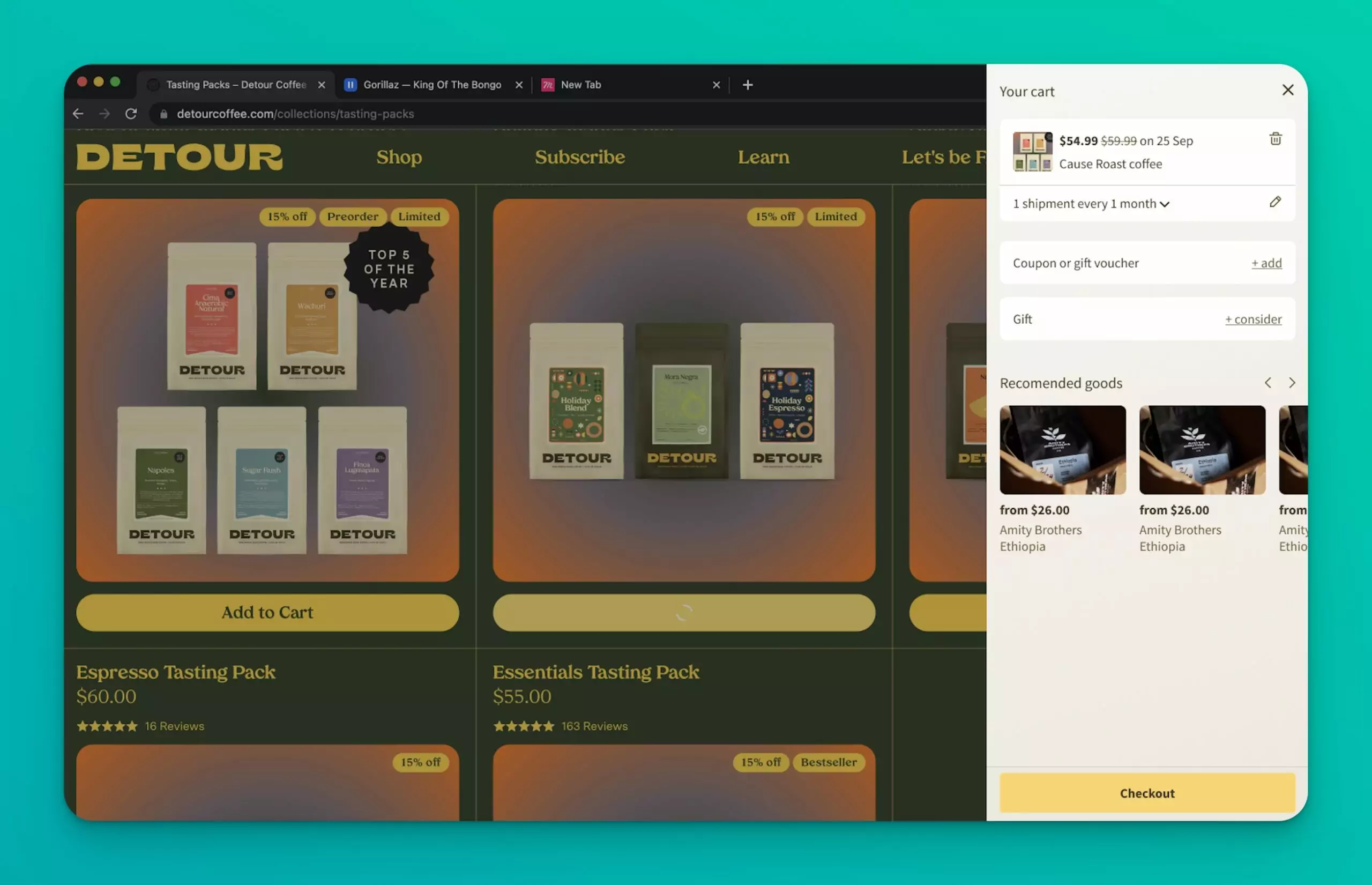 Although there isn't an official Subbly plugin for Magento, you can easily integrate the Subbly checkout and cart function into your existing Magento setup. This gives you access to all the key features, from upsells to coupon codes (configured via Subbly), right there on your page. To learn more about embedding Subbly into your Magento site, check out our guide.
Key features
Embeddable checkout available on all plan tiers

Support for multiple payment gateways

Branding and visuals are customizable
Unlimited products

14 day free trial
Pricing details
Magenest Subscriptions & Recurring Payments

Magenest Subscriptions & Recurring Payments is a popular Magento recurring payment solution that allows customers to subscribe to any product, reorder it in a specified interval, and automatically pay for it using their saved payment details. This solution requires business operators to have a PayPal merchant account, Stripe account, or Authorize.net account to receive payments.
Key features:
PCI and DSS compliant
Multiple payment gateways
Subscription management features
Enable trial subscriptions
Custom subscription start dates
Secure customer Account Dashboard
Free lifetime updates
Pricing
Open Source: $389 (one-time fee)
Magento Commerce/Commerce Cloud: $859 (one-time fee)
Aheadworks Advanced Subscription Products

Aheadworks' Advanced Subscription Products extension allows Magento 2 users to configure subscription plans for various product types, alongside offering one-time products. It's fully flexible, allowing customers to manage their subscriptions without admin or business operator input, and merchants to keep customers in the loop with automated email alerts, among other features to maximize conversion.
Key features:
Offer free shipping
Configure different subscription product types
Offer customer group-specific pricing
Supports bulk discounts or other rule-based reductions
Mobile-optimized design
Multiple payment methods (including Apple Pay, PayPal, Stripe, and credit cards)
Pricing
Open source: $674 in the first year, $250/year afterwards
Magento Commerce/Commerce Cloud: $1,215 in the first year, $450/year afterwards
MageDelight Subscribe Now - Subscriptions and Recurring Payments

Developed by MageDelight, Subscribe Now – Subscriptions and Recurring Payments enables Magento 2 users to sell subscription products and services. Featuring a user-friendly and intuitive interface alongside powerful merchant tools, it's a comprehensive solution for business operators aiming to increase customer loyalty and recurring revenue.
Key features:
No payment gateway dependency
Customizable customer area
Enable skipping and pausing
Supports cash on delivery
Automated customer email notifications
Pricing
Open source: $399 (one-time fee)
Magento Commerce: $799 (one-time fee)
Magento Commerce Cloud: $999 (one-time fee)
mPower Subscription & Recurring Payment Solution

mPower's Subscription and Recurring Payment Solution is a native Magento 2 subscription management extension allowing users to leverage recurring revenue and subscription business models with powerful automations. Its developers, PowerSync, also include 24/7 support for the first year, as well as lifetime updates.
Key features:
Accept recurring payments
Manage subscription products and customer accounts
Modify subscriber preferences, or allow subscribers to do it themselves
Simple checkout functionality
Automated notifications and renewals
Payment integrations with Braintree, PayFlow, Stripe,

Authorize.net

, CyberSource, and more
Pricing
Open source: $1,497/year
Magento Commerce and Commerce Cloud: $4,997/year
Subscribe Pro Connector

Subscribe Pro Connector provides an integrated subscription commerce solution for Magento users looking to increase customer lifetime value, loyalty, and revenue. Data is stored on their platform, and transmitted to Magento via API calls — meaning merchants just need their extension to get started, rather than a custom installation.
Key features:
Self-service subscription management
Secure, PCI certified payment details storage
Automatically generated customer service emails
Automatic error handling
Over 100 payment gateways supported
Pricing
Starting at $499/month, with enterprise options available
In conclusion
That's it — you've reached the end of our list of the best Magento subscription plugins and extensions on the market.
🔥 Pro tip
When you're making your choice, there's nothing more important than ensuring you're building your business on a solid foundation (read: tech stack) that facilitates long-term growth and maximizing recurring revenue. The more stable and unified your tech stack, the less you open yourself up for problems to arise once you've gained momentum and pivoting isn't an optimal option.
Check out Magento's App Store and see for yourself — but no single extension matches the functionality of an all-in-one platform like Subbly. It's the same case with BigCommerce subscription apps, Shopify subscription apps, WordPress subscription plugins, and Webflow subscription ecommerce setups too!!
Here's what our merchants have to say!
"Subbly is easy to use… I can't really think of anything I'd need outside of what Subbly offers, plus they've helped me think of things I hadn't thought of yet. Also, the customer service is EXCEPTIONALLY amazing (and super patient)." – Telia Rae Sorter, Founder of Sorter's Corner
"Subbly has exactly what we need in a subscription platform. We have tried others and they simply still need more development, while Subbly has given us enough room to grow with enough ease of use to be the perfect solution." – Robert Sanchez, Founder of Pure Roasters Coffee
"There is no other single platform that offers so much for such a low upfront investment. There is no fluff in the Subbly ecosystem; you get what you truly need out of the box, without being overwhelmed or confused." — Alex Fleck, Founder of The Keeper Box
We invite you to discover Subbly yourself today – the first 14 days are on us!