Choosing the best subscription app for Shopify
Last modified on February 1st, 2021
Bold and Recharge have been the two dominant apps who have traditionally offered subscription eCommerce functionality on the Shopify plaform.
Recently, however, we've been noticing chatter via subscription-related Facebook groups, that there's been a recent shift in the market.
Shopify have made recent moves to deploy their own subscription billing offering, which has left some of the incumbent suppliers potentially in the lurch.
This shift, has arguably, threatened the dominant position that the market leaders, Recharge and Bold have historically had in the market.
In response, both companies have restricted access to their lower-tier product offerings or found themselves on the short-end of a technical support nightmare with Shopify.
"The old Bold and Recharge apps are no longer available…" Says Christopher Ross, November 8, 2020.
Read excerpts from the full discussion below. Or join the Subscription Box Entrepreneurs Facebook Group with over 6500 members here to view the specific commentary from business owners in the know.
Either way, we are viewing these developments as quite a major shift in the larger subscription eCommerce market.
Not too long ago (2019), WooCommerce acquired Prospress and rolled that tech platform into their own native product offering. Now, it appears Shopify may be responding to this pressure in turn.
Even Amazon have recently rolled-out their own subscription offering this year. So it's obvious to us that the subscription economy is very vogue and in full-swing with a load of M&A activity to boot.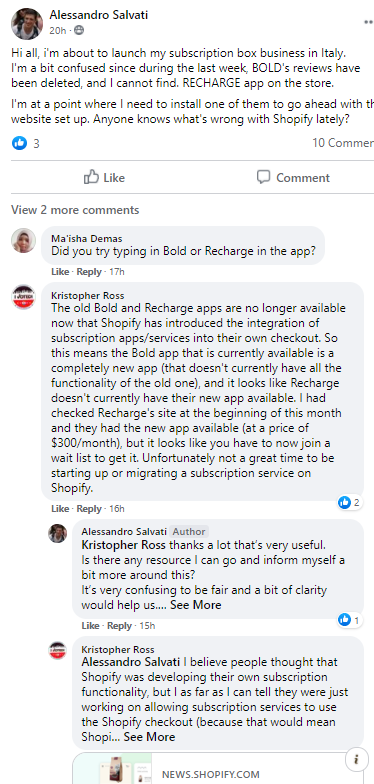 Just like Amazon's treatment of third-party sellers on their platform, Shopify maybe taking a leaf out of Amazon's playbook by creating their own native feature roll-outs based on customer feedback from within their own ecosystem.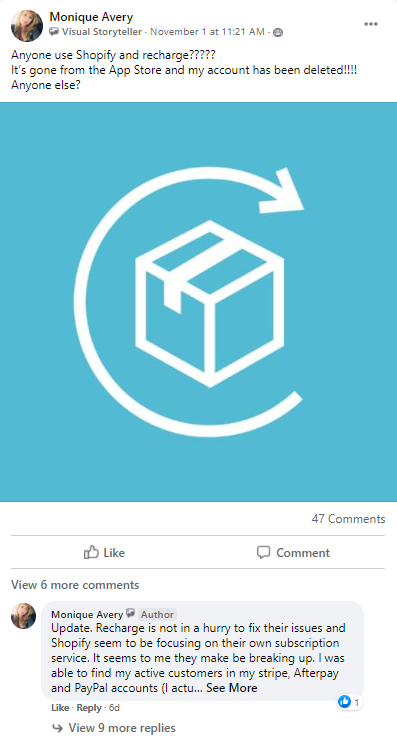 While we are obviously biased, you should consider a moment of truth.
You could work with Shopify's ecosystem, trying to make their solutions work together. Or you could just open an account with Subby and get the best of both worlds.
Keep reading or reach out and say hello. 'We don't bite.
Reconsider your choice of eCommerce platforms and think about powering your subscription business with Subbly's consolidated all-in-one solution.
That is all.
Ciao