Top 26 Book Subscription Boxes for 2021
Last modified on November 22nd, 2021
Even though it's fun for a book lover to roam a bookstore searching for the perfect read, it's even more fun to spend that time already reading the right book. With yet another bestseller emerging on the NY Times list, the fear of missing out is real.
A book box subscription is a perfect way to reach a monthly reading goal and catch up on the best books without experiencing decision fatigue.
Customers save money and time, which they can instead spend doing what they enjoy, reading! Vendors get loyal customers, grow engagement and get regular feedback. If you google book box subscription service, you will see offerings to fit every taste. Let's take a look at the top 26 subscription book boxes available in 2021.
Book Only Boxes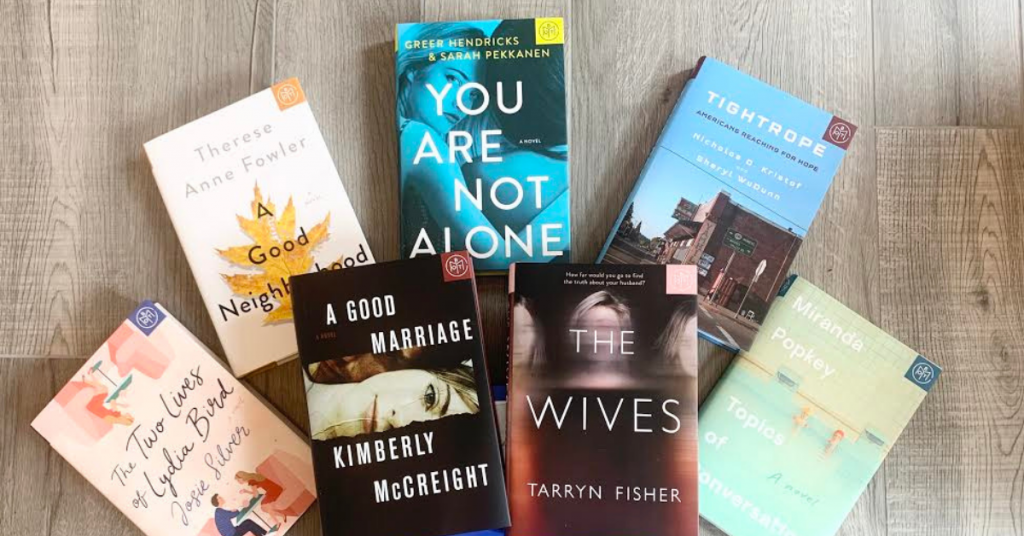 A subscription box is a perfect way to create a personalized product for a huge category of global readers. The huge variety of book subscription boxes for adults and kids, coffee and tea lovers, comical and comic book subscription boxes only proves that this niche is flourishing.
Book of the Month Club is the oldest and most widely known literature subscription service out there. It's been active for almost a century now. They even have an annual Book of the Year Award, called Lolly. The monthly membership is $14.99 per month, though the first book club subscription box is only $9.99. Every month, a panel of judges chooses five top reads of the month, and the club members vote for one hardcover they would like to get. You can add more books to your box, skip a month free of charge or cancel anytime.
Love reading paper books but can't afford to spend a lot on your hobby? Take a look at Used Books Monthly. With this service, you will get a surprise box of books every month at a sweet price. Starting at $6.79, you can get a box of gently used books in the genre you pick. You can choose to receive one to four books per month. Used Books Monthly is a great way to read more while spending less and taking care of the environment. When you buy used books, you help them live longer.
Are you looking for a specific genre, like a horror book subscription box? Check out MyThrillClub. To let you enjoy the service as soon as possible, they ship the first box within 48 hours of your first order. Starting at $16 per month, you can get horror, thriller, or mystery books every month.
Two hardcover books of your chosen genre as well as a selection of ebooks will be sent to you monthly. You can also choose to let the curators pick the genre for you each month. This mystery book subscription box service has a loyalty program in which the subscription cost drops the longer you are a member.
Want to make reading and discovering new authors even more fun? Take a look at Boxwalla Book. Every two months, they send their subscribers a box with two books written by authors from different corners of the globe. For $29.95, subscribers can get acquainted with less well known writers whose books are worth reading. Every box is themed and includes a detailed insert. Packages include modern books as well as hidden classics from the past. 
This comic book subscription box is probably the largest you can currently find. If you are at the beginning of your comic book collection, this service can get your library built quickly. For $27.95 a month, you get as many as fifteen collector's comic books. There are new issues, old issues, top issues, and variants inside the box, and there are no duplicates in the boxes. Every comic book you get is a new condition first print. The comic book value of each box is at least $60.
The Bad Alibi Book Box is for budding authors and those fond of mystery and thrillers. Every box includes a recently released young adult or adult book, a short story, and a mini-mystery, with one or both of the latter two written by subscribers of this service. There is also an assortment of three to five items that match the theme in every box. There are two price options, the book-only box is $19.99, and the monthly subscription is $39.99. This subscription is an excellent way for aspiring authors to find their audience and test their voice.
BOOBOX is a wonderful surprise subscription of digital books. This service adds even more charm and curiosity to the book selection process. BOOBOX is based in Canada and, by the way, uses Subbly to run their subscription business. Depending on what subscription level users choose, they will receive 3 to 9 ebooks every month. By surprise, of course. BOOBOX also features an exchange option, so subscribers can get another book if they don't like what they've received or if they've already read the book. There are several subscription plans starting at $6, and there are plenty of choices. 
Books and Goodies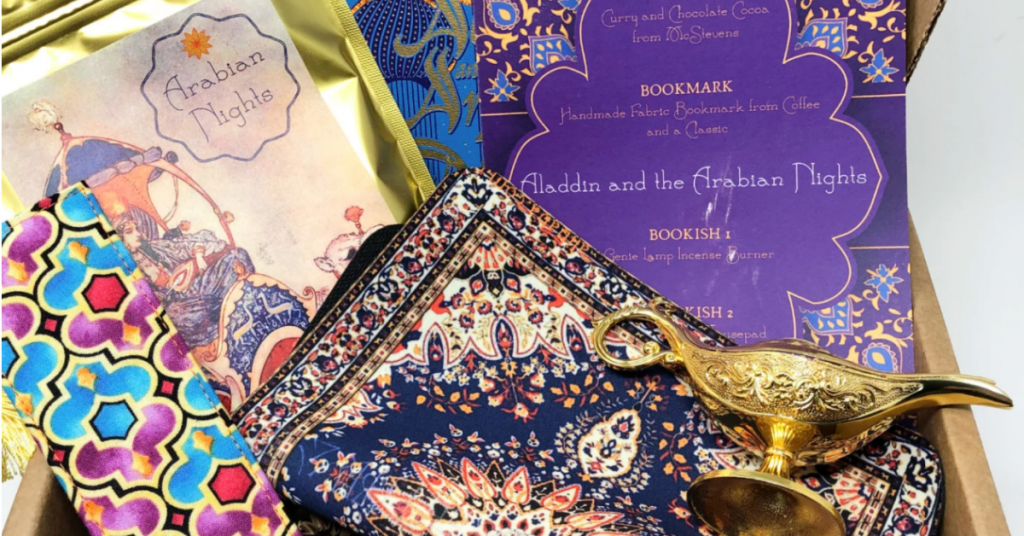 Subscribers might be demanding, but probably you already know that. For exquisite tastes, or when a book only is not enough, this selection features boxes that come with all sorts of perks complementing the literature inside.
Loot Crate is a comic book subscription box that includes carefully chosen items from the top pop culture franchises. Inside every monthly box, you will find a range of items, possibly including a comic book, a wearable, a t-shirt, a household item, a vinyl figure, or a utility.
Starting at $24.99, you can get a box of carefully curated licensed items related to a chosen theme, which are often limited edition and collectible. You can choose between animation, film + TV crates, gaming, limited edition crates, and pop culture, and can purchase past boxes in case you missed something fun before you became a member. Loot Crate also offers a Welcome Crate box at $19.99 to give you some extra goodies for a great price. 
BlackLIT Box is a fantastic way to support writers, publishers, and entrepreneurs of color. The service aims to grow positive representation and celebrate the community's culture, traditions, and history while also promoting literacy.
Starting at $39.99 per month, you can get one of five BlackLIT Box options: spiritual, fiction, nonfiction, men, and mini-mailer. Subscribers can switch between genres or cancel their subscription anytime. Inside every box, you will find one or more books written by authors of color, up to five products from black-owned businesses, plus five writing and discussion points.
Fairy Loot is a fantasy book subscription box that features young adult literature. Its monthly boxes include one newly released fantasy book, accompanied by five or six bookish goodies. These boxes often include special edition books, as Fairy Loot partners with top writers and publishers.
Starting at $33.90, you can get your monthly themed box with a brand-new book that was published not more than five weeks before the shipping date. You can subscribe for one, three, or six months. Some of the past themes were Greek mythology, hidden identities, rulebreakers, and frozen fables.
Curated by an indie bookstore in Delaware, The Book Drop subscription box hits the sweet spot between surprise and subscription. The following types of adult boxes are available: Books for Tea, Books for Elixir, Books for Bubbly, and Books for Coffee. You can also get a blended box that will contain books from two of the main categories, alternating each month.
There are books for young adults, books for middle grade, books for early readers, and book droplets. There is also an adult Books in Large Print box.
Subscription starts at $17.99, and you will find books from the month's selection in every box, accompanied by a bookplate or a note from the author with their autograph.
This book subscription box is curated by the Strand Book Store in New York. With this service, you can choose from nine genres: fiction, young adult, art/photography, feminist literature, political nonfiction, mystery and suspense, sci-fi and fantasy, little readers, and classics.
Starting at $37, this quarterly book subscription box for adults includes a signed first edition hardcover book plus one paperback, accompanied by literary goodies, carefully chosen by the curators, and some Strand merch. Past boxes had items like notebooks, magazines, journals, tea, magnets, and snacks.
If you are looking for a cool but also cheap book subscription box, take a look at the Bookworm Box. Every box includes an autographed book, and all profits are donated to charity. Starting at $6.99, you can get a monthly book box, accompanied by numerous goodies.
You can choose between romance and young adult, and there are different box options in each genre, from digital to author-stalker level. Digital boxes include a letter from the author and ebooks. In the author-stalker box, you will find an autographed book, an ebook, a letter from the author, an author pinmate, some bookish swag, and author swag.
This book box subscription service motivates its subscribers to read more and do it faster. In every box, you get a hand-picked book, a printed quote from the book, three to five secret gifts, and some discussion questions. Every gift has a page number on its packaging, and you can open it once you reach the corresponding page.
Starting at $42.49, you can choose between the young adult box (14+) and the adult box (18+). There is also a VIP membership option for bloggers. It includes perks like giveaways, promotional opportunities, store credit, and more.
With this subscription service, you can keep up with the New York Times and the USA Today bestselling authors. Currently, you can choose between romance and kid's books, with more options coming soon. The starting price for an adult box is $24.95 and $18.95 for the kid's box. You can get one, two, four, or six books per month in a box, and Reveal will choose the books based on your favorite tropes and subgenres.
In every box, you will also get swag, sweet treats, and women-geared product samples. The kid's book box includes a selection of curated books, chosen based on your kid's interests. For every kid box you get, Reveal donates a book to a child in need. They offer different children's books for different age groups, of course.
Books and Coffee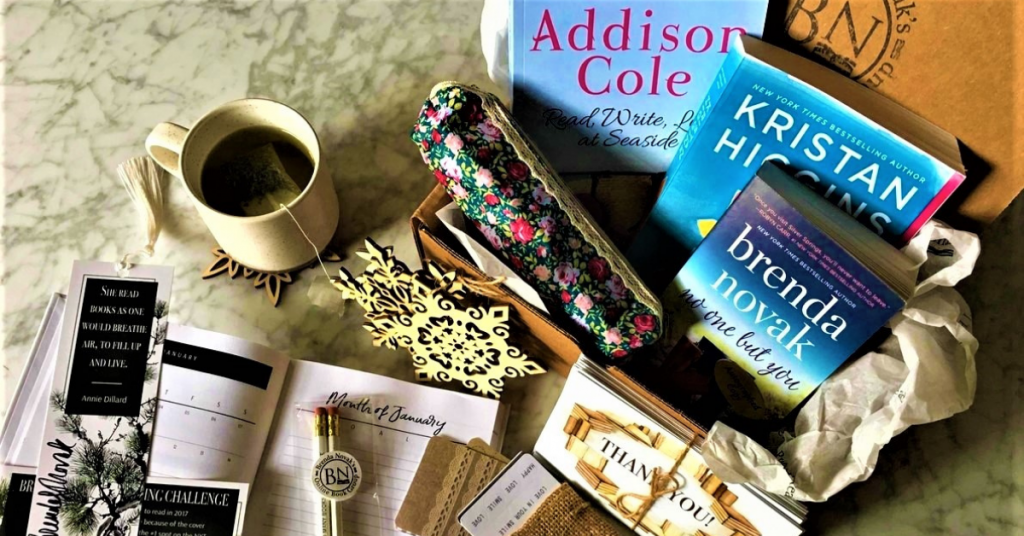 What's better than a good book? A book and a sip of a good coffee.
Starting at $31.99, you can get a box that will get you sipping and flipping in no time. This coffee and book lover subscription box includes two hardcover pieces, accompanied by a 12 oz bag of whole bean or ground coffee. Additionally, you get a selection of ebooks to your email.
As for books, you can pick acclaimed fiction, acclaimed nonfiction, mystery, horror, thriller, romance, science fiction, or fantasy. Feeling adventurous? The Surprise Me box is there for you. You can change or cancel your subscription plan anytime.
The Coffee and a Classic subscription box is for those who want to catch up on classic literature. With this subscription service, you will get one masterpiece every month. You can opt to receive literature, nonfiction, and children's classics.
In the standard subscription, you will receive something to drink (like coffee or tea), some snacks, a mug, some bookish items, and a bookmark along with the book. The subscription starts at $41.99, with starter and standard subscription options. You can also sneak a peek at the next month's box before ordering it.
Book Boxes for Children and Young Adults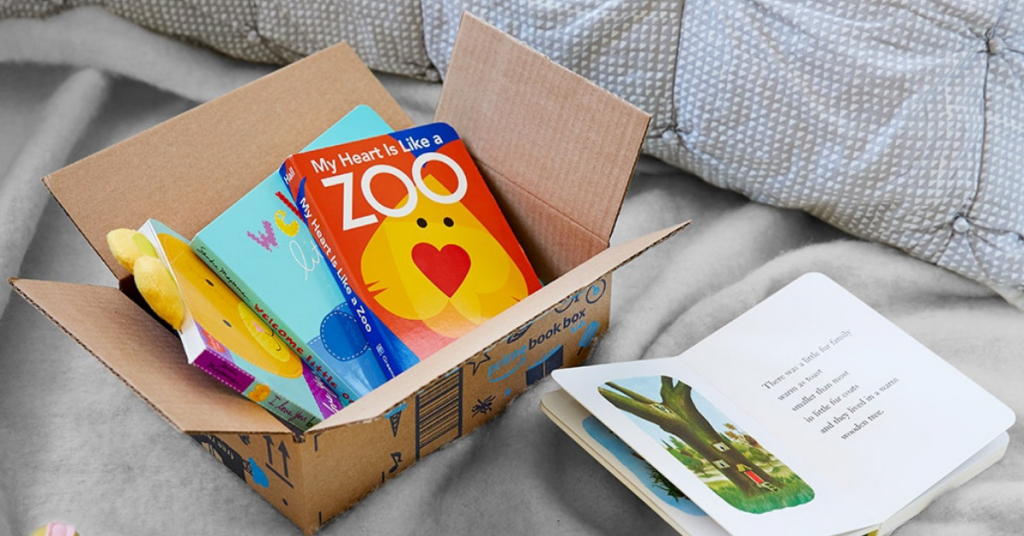 These boxes are here to fulfil every parent's dream — keep youngsters engaged in reading and cut off their screen time.  
This box is for mindful parents who want to teach children about diversity and equality. It can help to raise the next generation with a broader mindset than that of white privilege. Every month the book has a new theme, like gratitude, love, peace, etc. For $29.99 per month, you get a kids book subscription box with three books that feature characters of color, LGBTQIA+ characters, or characters with disabilities.
You can choose the reader's age range (0-2 or 3-7). The Equal Opportunity Book Box also has another initiative worth supporting —for every book sold they donate a book to a deprived child.
This is a monthly book subscription box for readers of young adult fiction. There are two different boxes based on reader age, OwlCrate Jr (8-12) and OwlCrate (14+). Starting at $32.99, you can get a YA book subscription box tailored to a specific theme.
Inside every box, there is one hardcover book, some bookish items, and some exceptional items from the author. You can find exciting things like handwritten letters from the author, collectible stickers and magazines, activities, games, and enamel pins in these boxes.
This children's book subscription box includes inspired picks for every age and every reading level, with boxes for newborns, toddlers, early readers, and young readers. Books are selected by expert booksellers at The Reading Bug, an independent children's bookstore.
Starting at $18, you can get a monthly box of hand-selected books that are the perfect pick for a specific reader. Sometimes, you can find extras like stickers, art supplies, small games, and activities in the boxes. Single and multi-month subscription is available. If you ever receive a book you already have, you can donate it and receive a credit from the store.
This subscription service offers customized book boxes for different reading levels and genre preferences. To get started, you need to answer a questionnaire on the website and subscribe. You can provide feedback on every box you get to customize and refine your boxes even more.
At $34.99, every book subscription box for kids includes four books shipped monthly, though you can receive deliveries less often if preferred. Other merch and holiday boxes are available. If you get a book you already have, you can get a credit for donating it to a library.
Ever felt that the fairytales you read to your little one are outdated and cannot help your kid navigate in the real world? Momo's Book Club is there to help you build a diverse modern library for your child. They pack the boxes with beautiful stories that reflect real life and speak on family, diversity, identity, bullying, and more.
The subscription starts at $10.00, every monthly box is themed, and every book is wrapped. The box subscription cost varies based on the number of books you want to get, type of books, and reader age. Every Momo's Book Club box is themed.
Bookroo is a kids' book club that offers book box subscriptions. The content of every box is carefully hand-picked by in-house book experts together with parents, librarians, and little readers. Starting at $19.95, you can start building your kid's library.
There is a board book box (ages 0-3), a picture book box (2-6), and a chapter book box (ages 7-10). The board book box includes three sturdy board books and an insert with author insights or other exclusive info. The picture book box includes two hardcover picture books and an insert. The Chapter book box contains two large books and an insert containing additional information about the book.
Books and Self-Care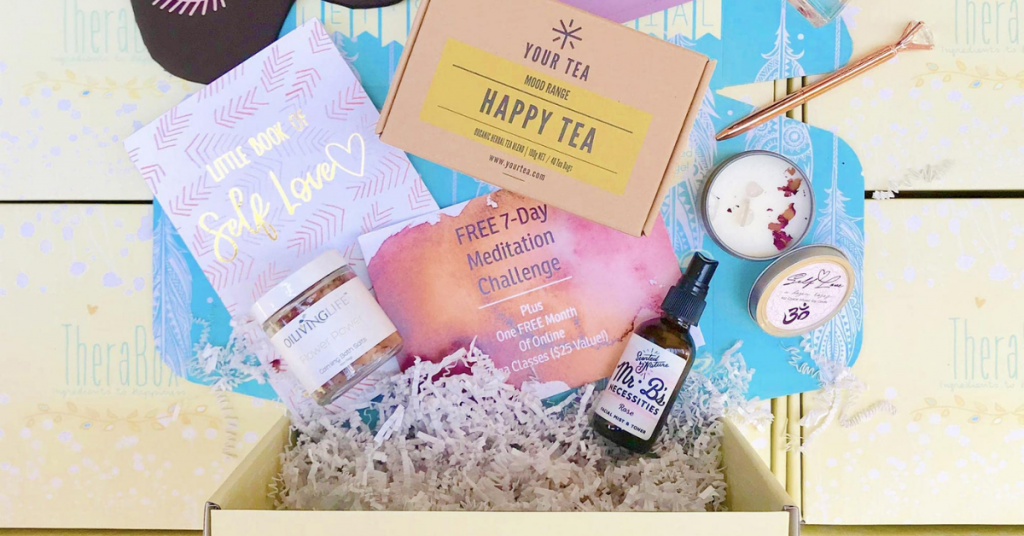 The subscription boxes that your audience deserves. Especially in turbulent times of pandemic and never-ending crisis, books on self-care serve as sound reminders of what is really important.
Authentic Books is for those who think of reading books as a part of their self-care ritual. It's not a simple book and tea subscription box. The package aims to please all of the senses. There is something for the sight, taste, hearing, smell, and touch in every box. 
Starting at $49, the Authentic Books box comes with two hot hardcover books, accompanied by numerous self-care items that differ based on the subscription plan. There are candles, artisan beauty/self-care items, Spotify playlists, bookmarks, and so on. 5% of every membership goes to support children's literacy, and you can choose between mini experience, full experience, and premium experience plans.
This is a subscription for those who enjoy reading romance novels while taking a relaxing bath. You can choose contemporary romance, paranormal romance, mystery, and historical romance. This romance book subscription box can become your monthly self-care reminder. 
The starting price is $25 per box, and there are 4 different tiers of box. Monthly themed boxes include several paperback books, ebooks, and three to six pamper-friendly items, carefully chosen to make your me-time perfect. These can include soaps, bath bombs, candles, face masks, and teas. Outside of one option, every box has enough items to let you enjoy multiple baths.
This service aims to help subscribers incorporate reading into their self-care routine. Every monthly box includes a newly released book (not older than 90 days before shipment), three to five self-care products from small businesses, as well as one or two usable novelty products from Unplugged. With every box, you also get exclusive recipes, journal prompts, playlists, and more.
Starting at $34.99 per month, you can fulfill all your reading and self-care needs. Unplugged offers four different subscription plans. You can also opt for a one-time YA or adult box to give the service a try.
Final Thoughts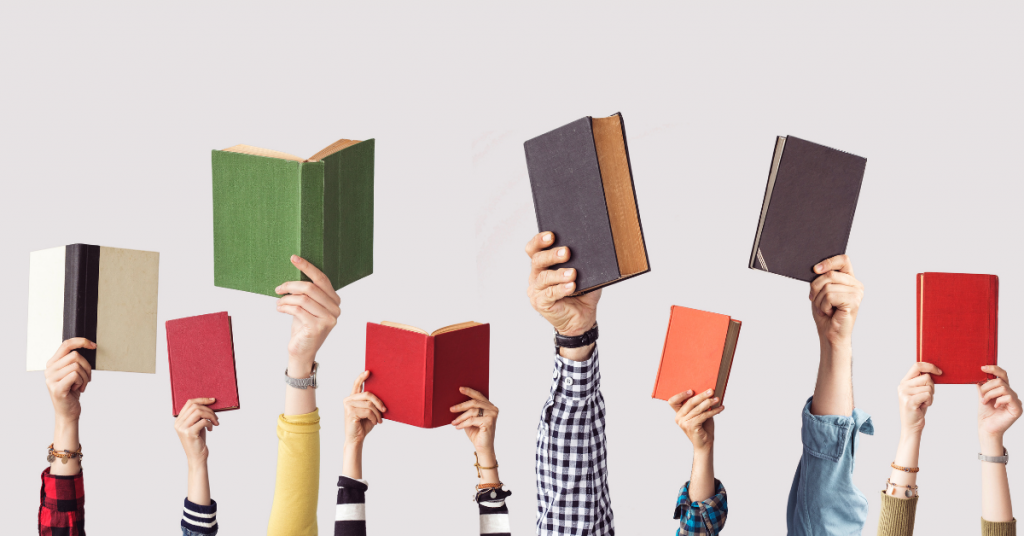 This was our list of top 26 book subscription services available in 2021. There's no need to try multiple services to find the right one for you—there's the best book subscription box for every reader out there, even for the pickiest one. 
A book box can be anything from learning literature to a self-care toolbox, based on a company's mission and imagination and the customer's needs. Want to make your book business more competitive in the digital world of emotional purchases and deep customization? Give Subbly a try, free for 14 days, and see what we can do to help you grow better and faster.