What is your customer retention rate?
The percentage of existing customers who remain clients after a specific period is referred to as the customer retention rate.
In some cases, customer retention begins with the initial contact. Customers can "like" your Facebook page or join your email list. The connection will remain until they unfollow your page or unsubscribe from your mailing list.
Generally speaking, however, customer retention starts at the moment where you acquire your customer — i.e. when they buy your product.
What is considered a good customer retention rate?
Of course, the ideal retention rate is as near to 100% as possible, but greater than 95% is also an excellent place to be. This signifies that your company keeps high customer satisfaction. A realistic and 'healthy' retention rate, however, varies based on the business model, the size of the business and the industry in which it works.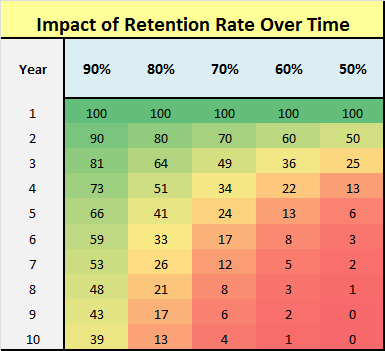 Source: CLV Calculator 
The age of your organization may also determine your customer retention rate — a more established service in its market may have greater customer retention rates since it is a well-known service, and clients know what to expect from it. On the other hand, a newer company may see lower retention rates as wave after wave of new customers try out the service to learn more about it and then leave.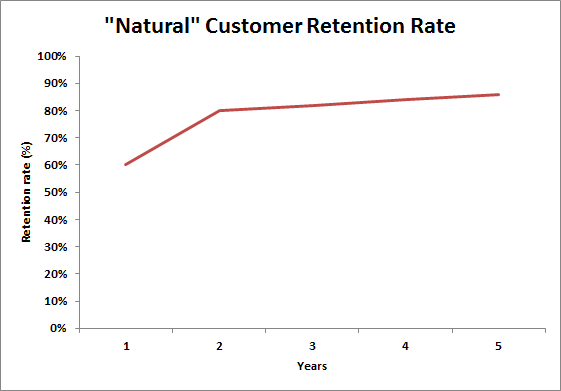 Source: CLV Calculator 
Customer retention rate by industry
The average customer retention rate is 75%. Here's how it breaks down by industry:
Media: 84%

Professional Services: 84%

Automotive & Transportation: 83%

Insurance: 83%

IT Services: 81%

Construction & Engineering: 80%

Financial Services: 78%

Telecommunications: 78%

Healthcare: 77%

IT & Software: 77%

Average Retention Rate 75%

Banking: 75%

Consumer Services: 67%

Manufacturing: 67%

Retail: 63%

Hospitality, Travel, Restaurants: 55%
Source: Exploding Topics
Why should you track your retention rate?
Client retention is easier and less expensive than customer acquisition. Customers who return spend more, buy more frequently, and are more likely to suggest your products and services to friends and family. On top of that, increasing customer retention may boost your bottom line — a 5% retention rate increase could lead to as much as a 95% increase in revenue.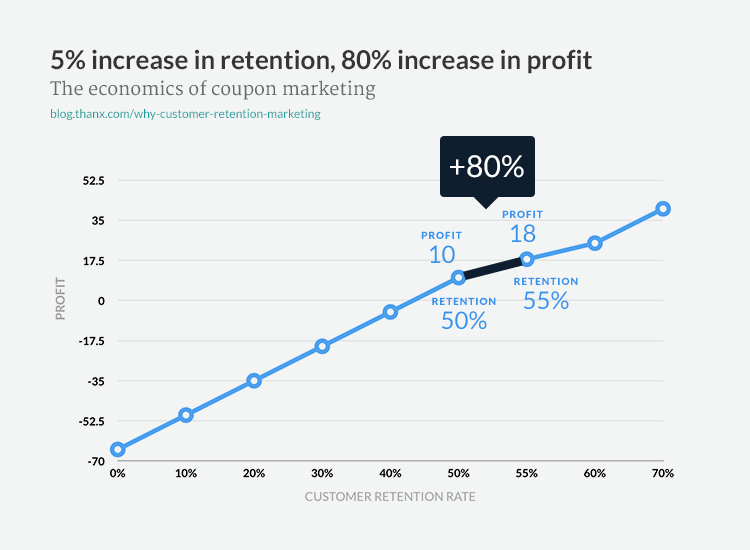 Source: Thanx
Customer retention is crucial to a subscription company's growth and success for several reasons:
Effectiveness:

Acquiring a new customer is 6 to 7 times more expensive than retaining an existing one.

Maintaining loyalty:

Loyal customers buy more frequently and spend more money than new customers. They recognize the worth of a product or service and are more likely to buy again and again.

Referrals:

Happy, loyal customers are more inclined to recommend your company to their friends and family, bringing in new free customers with 0 acquisition cost to you.
The idea that 'businesses should want to keep their customers' may seem obvious, but when you begin to develop fast and struggle to create a good long-term retention strategy, customers can slip away between the cracks.