New pricing: helping businesses grow by giving them more value
Dear customers, community, colleagues, and everyone in the subscription industry,
In this post we are introducing our new pricing plans and will explain how this change will help our users grow their businesses more effectively. This is an important announcement, so grab a cup of coffee, make yourself comfortable, and let's dive in.
Why Subbly is rolling out new pricing?
Our old pricing was released 3 years ago and since then Subbly has evolved significantly. We've rolled out multiple new features and solutions including: automations, more billing gateways, analytics, advanced churn reducing features, pre and post purchase offers, memberships, inventory tracking, and more. These changes are the outcome of our belief that subscription-first businesses deserve a subscription-first platform. However, with the old pricing, we had to offer these new features as add-ons, which compromised the transparency of our pricing plans.
Subbly is also against Plugin Soup™ , one of the many reasons is due to complex pricing, and a typically higher cost of running your business through needing multiple plugins. Our new pricing aims to unify all of our subscription-first platform features into new plans. This will unlock more value for our users, which will help them grow their businesses with less money whilst also making the pricing more transparent and easier to understand. For the bigger businesses using Subbly, they will gain access to our new and future advanced features which they will also get the most value from.
The pricing update is a required evolution for a product that has naturally evolved. It will also allow us to continue to provide and scale the same level of service you know and love whilst we continue to grow.
What is the new pricing?
Here is our updated pricing table and detailed comparison of all 4 pricing plans we will have.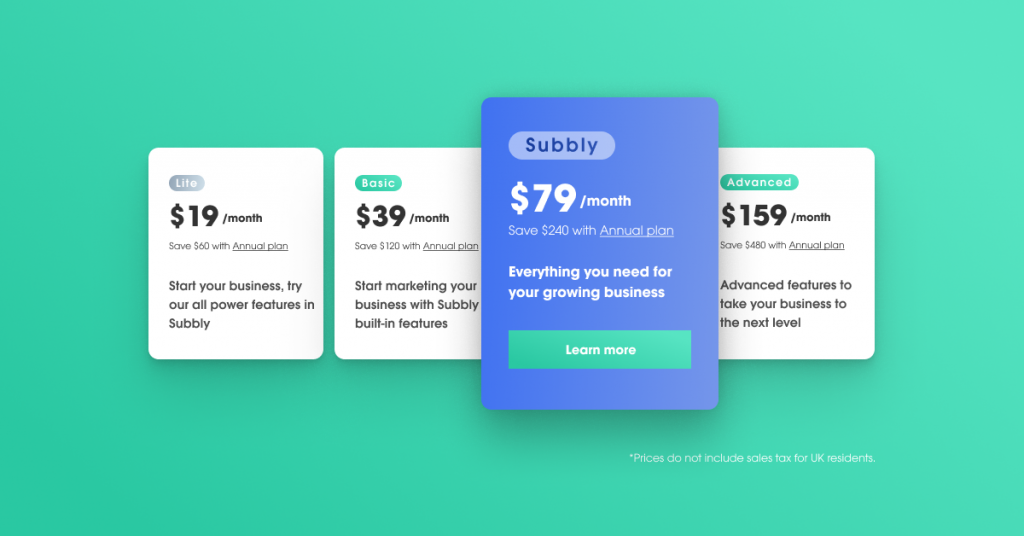 We will also be charging VAT for UK users of Subbly for both monthly fees and transactions fees on the 1st of July.
When and how will the new pricing take effect?
To make this transition as easy for you as possible, you will be automatically switched to a new plan according to your current usage on the 1st of July. This will immediately unlock access to features if you weren't paying for the add-on before.
For those whose price is increasing due to the new pricing, we will be giving a 3 month discount that matches the increase in price to allow for some time to re-evaluate Subbly and to make the transition a little bit easier, customer happiness is a top priority at Subbly, so if you have any issues please do let us know. Learn more about how the discount will work here.
We won't be grandfathering the old pricing because of the negative impact such an approach has on businesses, you can read more about it here (this is a good read for all subscription business owners!).
What is not going to change?
All new pricing plans will still have access to checkout only "mode", meaning you will still be able to use Subbly with Wix or Webflow or any other platform. That said, we do need to mention that Subbly is not a plugin or an add-on, but a subscription-first™ all-in-one platform that has all the features built in that you'd usually need separate plugins for (creating what we call a Plugin Soup™) and we encourage our customers to see for themselves all the advantages full Subbly functionality has. Nevertheless, if you still want to use Subbly as a checkout only solution, you are welcome to do so.
Introduction price will not change, you will still be able to try out Subbly for just $19 per month. And you can still run a subscription business with this plan.
Number of your subscribers remains unlimited, because we are here to help you grow, not to be an obstacle to your growth. You can successfully run your business on the Lite Plan even if you have thousands of subscribers. However, and we can't stress this enough, you'll get so much more value from the advanced features on higher plans, that it will really change the way you experience subscription business. But, of course, ultimately, it's your decision to make.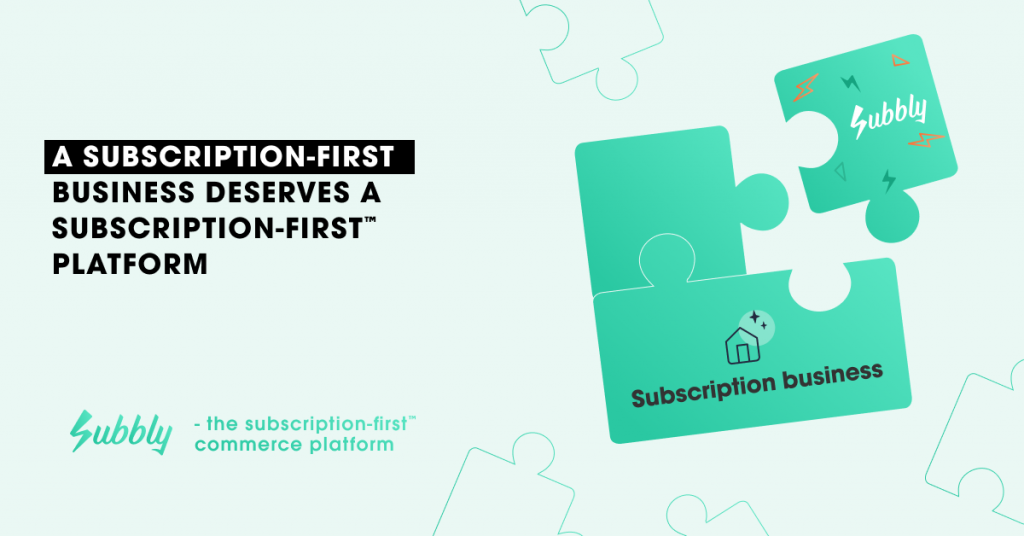 We hope this article clarified the changes to come in our pricing and that it left you excited about Subbly's mission, the increased pricing transparency and all the features that will now be available to you regardless which pricing plan you will use.
If you have any questions left regarding our new pricing, be sure to check out our FAQs here for more information and remember that you can always contact our Customer Support team via a chat window in the lower right corner on our website subbly.co or via email [email protected].
Thanks for being a part of the Subbly family, keep rocking on!