The Subscription Business Model: Examples and Tips
Last modified on October 7th, 2020
Subscription business models have blossomed in popularity recently. The subscription market "has grown by more than 100% a year, increasing from $57 million in sales in 2011 to $2.6 billion in 2016" (stats courtesy of Stanford's Graduate School of Business).
So, it's definitely relevant to talk about the "subscription economy", as Tien Tzuo, a 1998 graduate from Stanford's Graduate School of Business calls it – as more and more businesses will start exploring this business model.
But is converting your current business model to subscription really feasible?
What are the challenges of subscription?
What type of goods can you sell with a subscription business?
If you've thought about the idea already but still feel unsure as to what this type of business really entails, and you're still looking for strategies to overcome its challenges of the subscription model, we here at Subbly would like nothing more than to give you a boost.
The Subscription Business Model Through Brand Examples
Now, if you want to read more about the essentials of subscription, we've already written another article on that – our introduction to subscription services.
But here we'll focus on illustrating how you can capitalize on the advantages of subscription through taking a peek into what subscription brands are already doing. We also have another article you can check out that tackles the benefits of the subscription box model.
The logic behind the subscription business model is actually fairly simple: instead of merely hoping that your leads will hit that "add to cart" button to make a one-time purchase and become customers, you're going for the bigger prize at the very start – how to both attract and retain that customer for a period of time. The person who thought, hey, "people will like the convenience of subscribing to purchases" truly struck gold.
After all, some subscription businesses center around the idea that customers will likely be open to subscribing to products they consider essential, products they would buy on a regular basis anyway.
Let's illustrate…
Take Blacksocks for example. Blacksocks is a subscription service and an online retailer that started by delivering socks to men (usually businessmen) several times a year.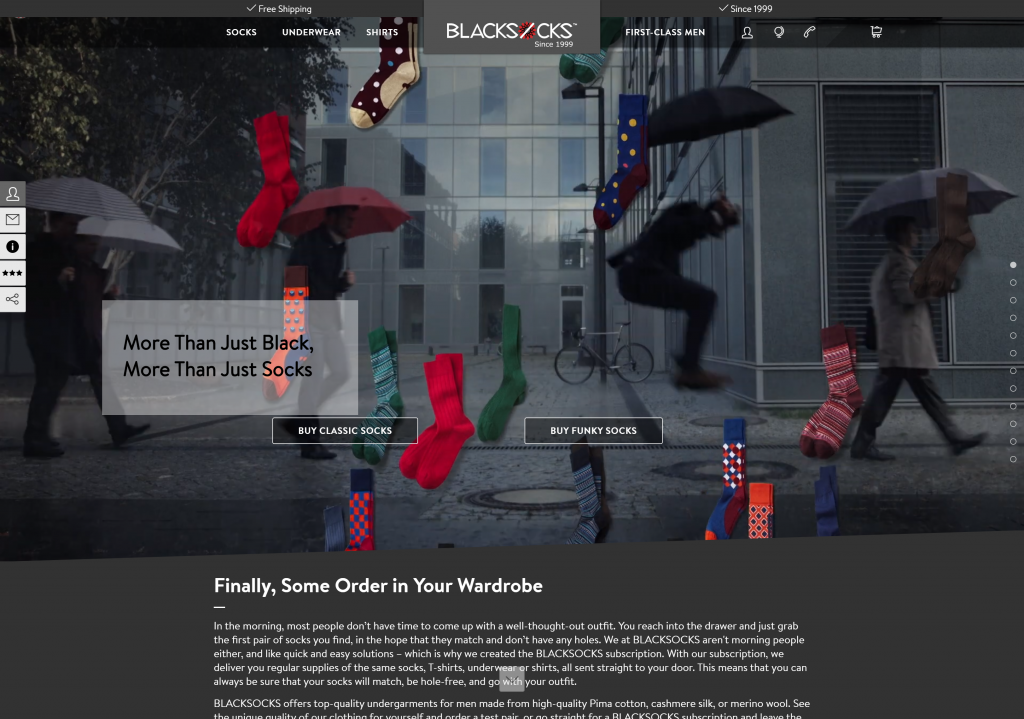 Source: Blacksocks.com
But why does Blacksocks work as a subscription business? After all, it's not exactly rocket science – socks have been with us for a while now and there are tons of retailers who sell them – including online retailers.
Everybody buys socks regularly, and people usually consider it a chore they want to get out of the way. Nobody looks forward to a shopping trip for socks, especially businessmen, Blacksock's initial target audience.
So the company takes it up a notch – with Blacksocks, you can take your shopping trip for socks off your calendar because they will deliver them to you. If you subscribe to Blacksocks, you can receive regular shipments of pairs of socks three times a year, four times a year, or once a year – basically whatever interval makes it most convenient for you.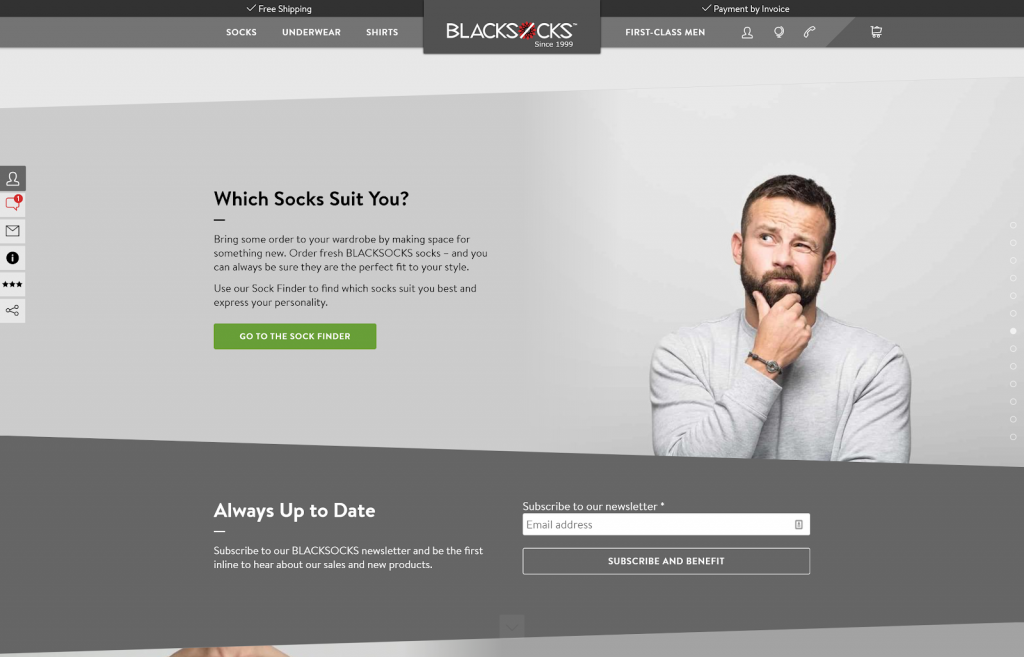 Source: Blacksocks.com
Apart from socks, with time, this company has expanded its field to underwear, t-shirts, shirts – so, several types of product essentials, always oriented towards the modern, professional, well-dressed man.
With free shipping worldwide, as well as policies that allow for cancelations anytime, customization at will, and a variety of sizing options that can fit almost all types of bodies, Blacksocks have established a pretty healthy subscription business model.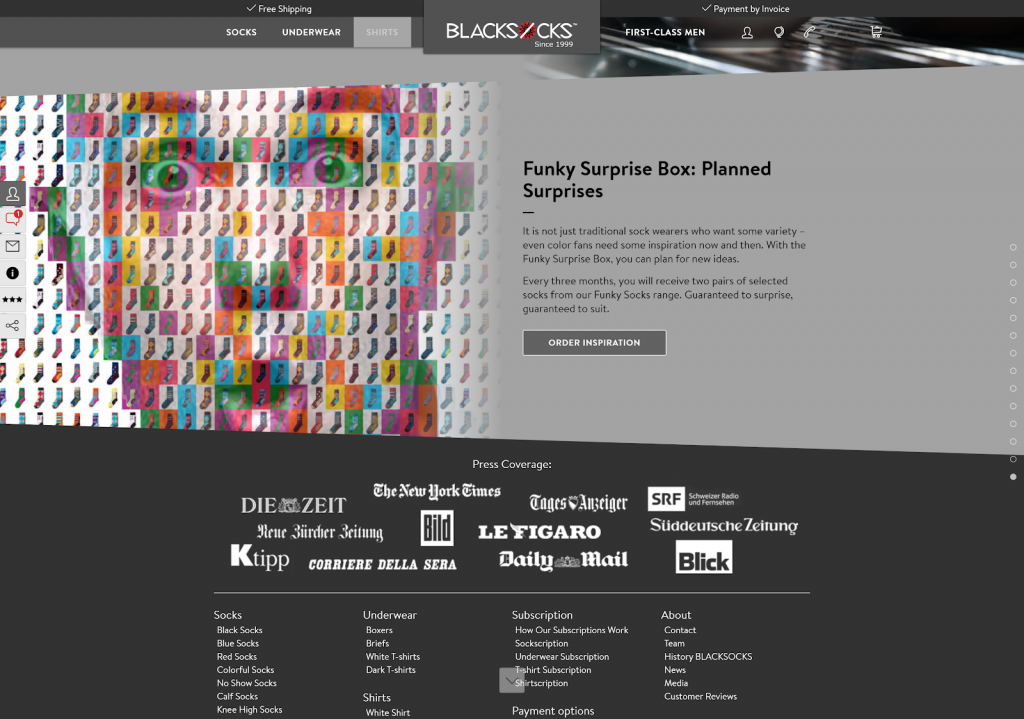 Source: Blacksocks.com
Does The Subscription Model Work for All Industries?
In theory, it could.
You can take the Blacksocks example and apply it to basically any product with an established consumer base.
It could be clothing essentials, or it could be beauty products and cosmetics, like Birchbox for example.
So let's look at Birchbox.
Birchbox is a company founded in 2010, in New York City. It's a service that sends subscribers a curated box of four or five make-up samples and other beauty products. Instead of spending countless hours in front and around the aisles of beauty shops, why not receive the items you want and need right on your doorstep?
Anyways, the numbers don't lie. As of 2019, Birchbox has 1 million subscribers, 2.5 active customers, $90 million in funding and company value of $500 million!
How did an online beauty subscription service get to become one of the most successful subscription box businesses on the market, among so many similar ones out there?
Well, it turns out, there was a key factor that made it unique. Namely, Birchbox used a somewhat different business model than other companies of its kind. Whereas competitors merely sent customers beauty boxes containing samples, Birchbox also included the option to purchase the full-size product they like on their e-commerce site.
And since 2016, around half of Birchbox's subscribers have decided to buy the full-size products.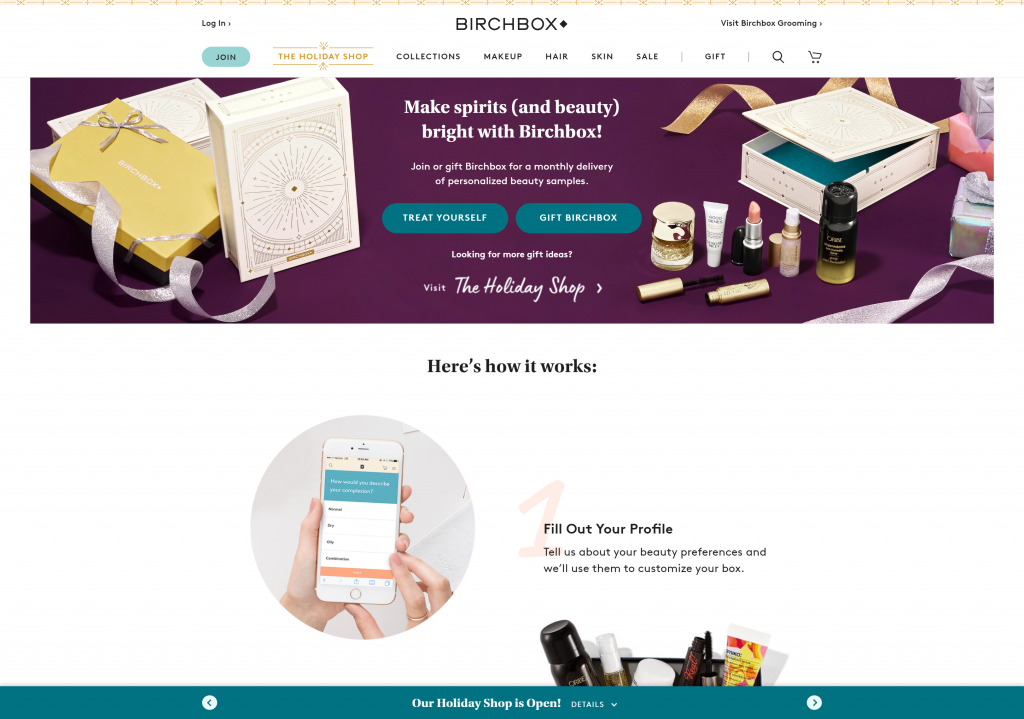 Source: Birchbox.com
So, your subscription business can be a beauty box, or a clothing essential, but it could also be something really niche – like a box curated for Harry Potter fans…..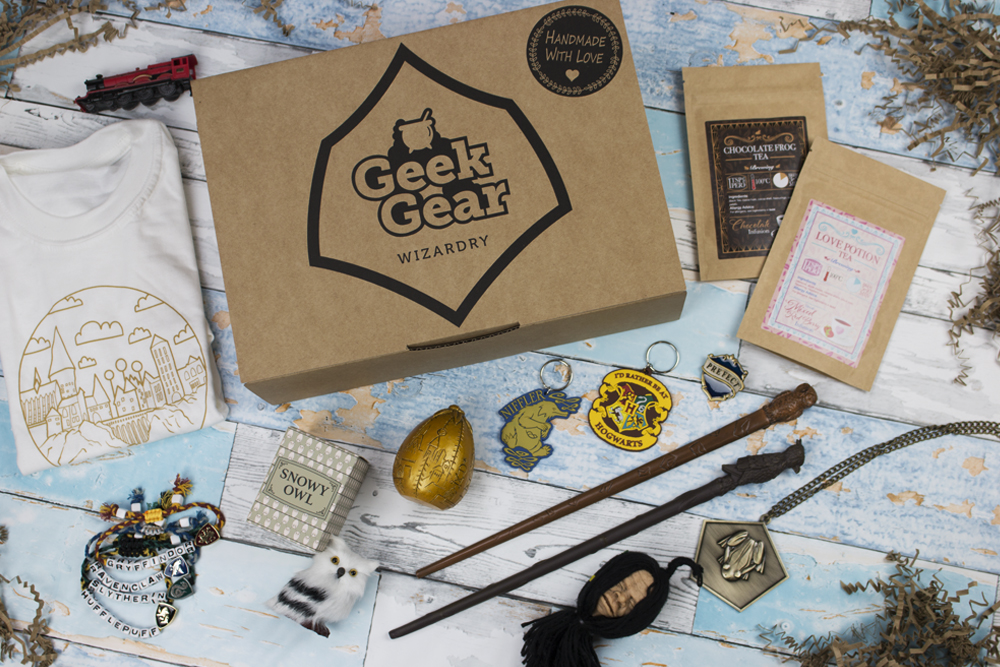 Source: GeekGearbox.co.uk
….or it could be a box filled with treats from Japan.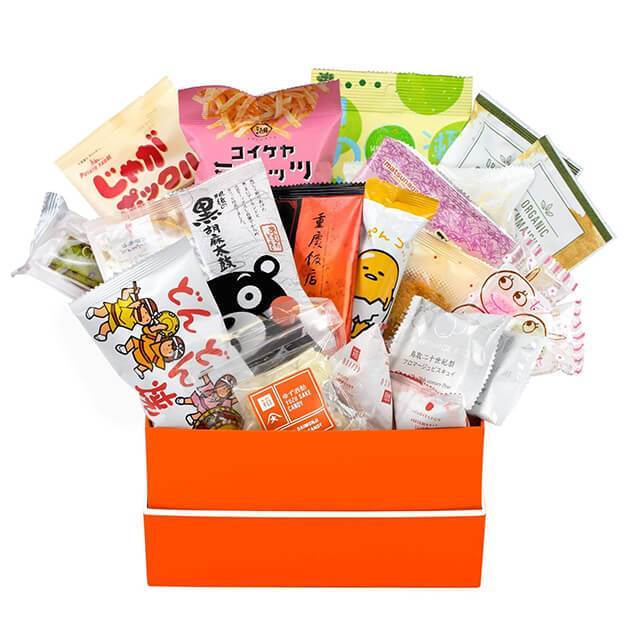 Source: Bokksu.com/
Basically, the sky's the limit.
If you have a well-defined target (buyer persona), and a few proven and researched strategies to appeal to that persona, then any idea can work. You just have to pick one of the three types of subscription business models.
The Types of Subscription Business Models Illustrated
As you already know, subscription services branch out into three main subtypes:
Box/Curation
Access
Replenishment
Let's look at the specifics of each one through particular examples.
Curation Box Brand Examples
All of the examples mentioned above fall into the category of curation boxes – one of the most frequent and successful types of subscription services.
All things considered, this is not that surprising. 21-century people, with their busy lifestyles and goal-oriented lives, aren't going to waste time in supermarkets, malls or big chain stores – well, not if there are other options available.
And this is exactly what curation boxes capitalize on.
Access Brand Examples
Access subscription makes your customers feel special. It marks a sub-type of the subscription business model where customers get additional access to your products or services if they subscribe to your brand. The subscription itself usually implies a monthly fee.
Access is most commonly used in apparel and food subscription companies.
The JustFab Example
Giving VIP Access to Customers Through Your Subscription Business Model
JustFab is an e-commerce store that sells stylish, fashionable clothes, shoes and handbags for women.
What JustFab have really nailed is their use of personalized data – the company uses style quizzes to learn their customers' tastes, after which it allows them to make subsequent customizations through their own personalized boutique.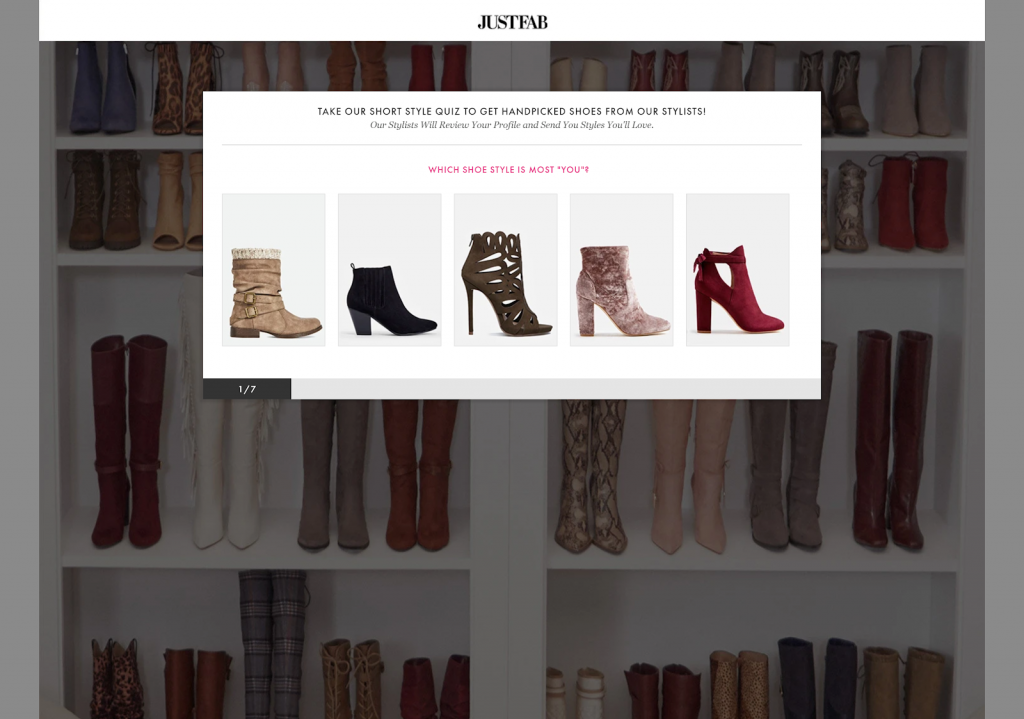 Source: JustFab.com
JustFab works as a regular eCommerce site and as a subscription business. It offers a VIP membership subscription which gives you 30% off retail prices for the products offered on their e-commerce site.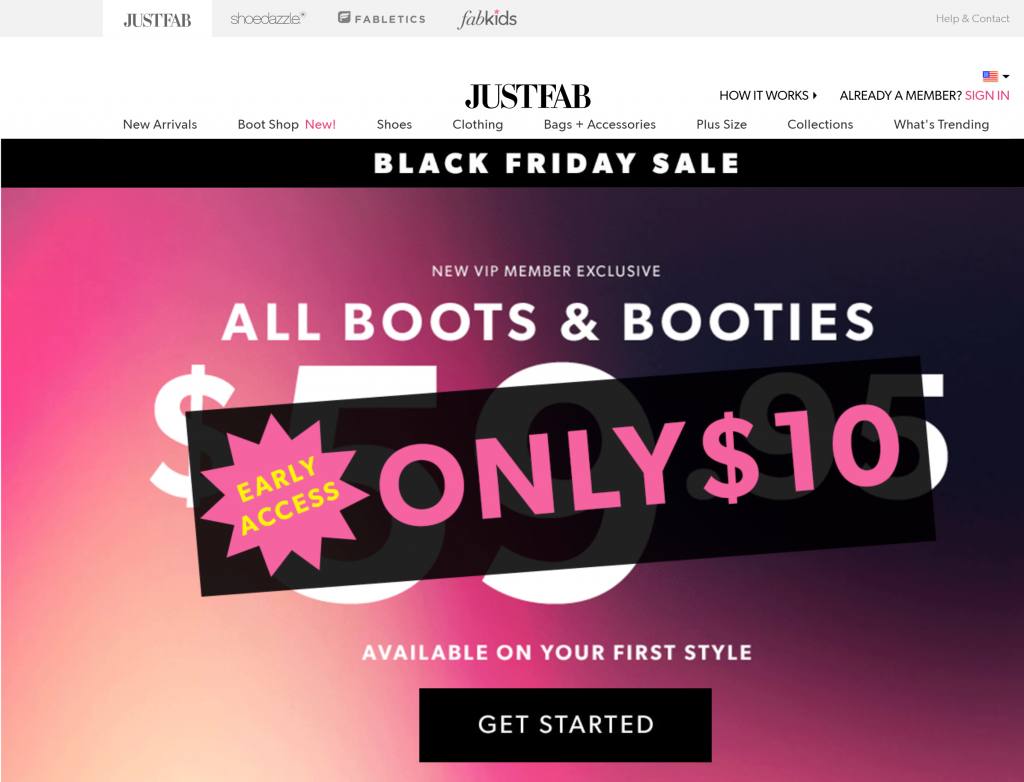 Source: JustFab.com
The membership itself costs $39.95 each month, and the charge will be made if you don't buy any products that month – if you do, you will be charged for the products with the discount prices offered by your member access as a subscriber.
The great thing about it is that each credit can be redeemed for JustFab items and it will never expire. Also, you're able to skip the month between the 1st and the 5th and not get charged for a membership credit.
The NatureBox Example
Give Your Customers Access to Food for Retail Prices
Meet NatureBox, a successful online snack company that uses the access sub-type subscription business model.
NatureBox allows customers to enjoy their beloved snacks for members-only prices. It works by offering a membership subscription to its customers that costs $30 a year. The membership benefits include discounts and special prices for the subscribers, with up to 40% discount on every order, daily. NatureBox also provides its subscribers with a monthly store credit of $5, which amounts to $60 a year.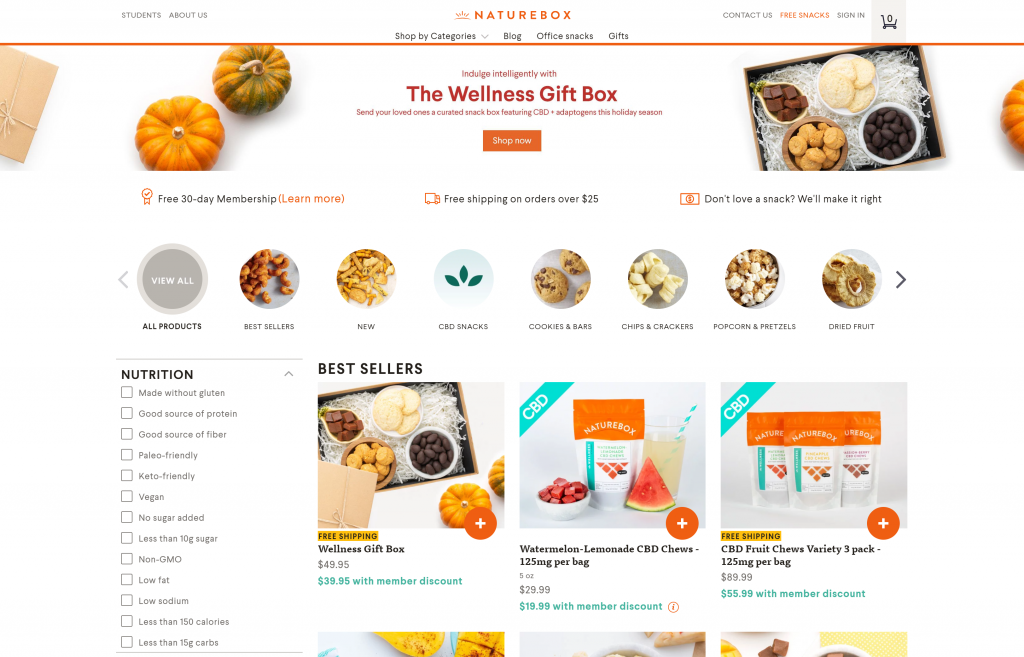 Source: NatureBox.com
Their policy is that the first 30 days of membership are free of charge and you can quit anytime – this is a very successful freemium tactic that we'll talk about more in the section below.
After the first month, membership costs $30 per year.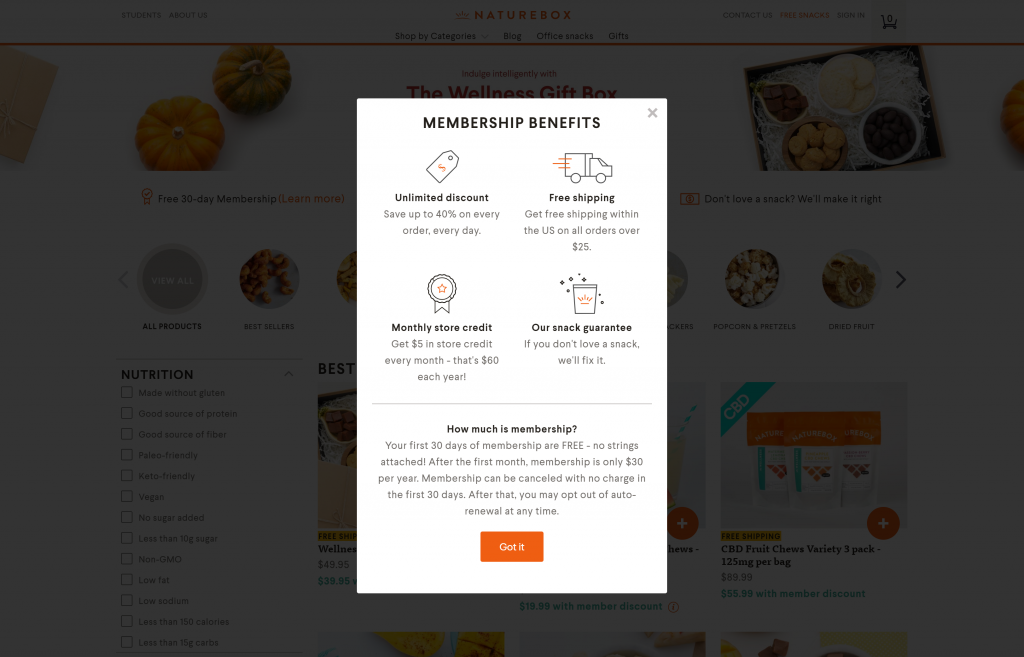 Source: NatureBox.com
Replenishment Brand Examples
Replenishment is a sub-type of the subscription business model that usually offers commodity items to customers with special, retail prices. Here you can find mostly beauty products and cosmetics, baby essentials such as diapers, grooming essentials such as razors and also health essentials such as vitamins. Which brings us to our example brand.
The Ritual Example
Provide Your Customers With Constant Supply of Vitamins
Ritual is a subscription-based business that delivers a monthly dose of essential vitamins, focusing only on women and the needs of their bodies. Their subscription kits start from $30 a month. They also have kits for women over 50, as well as women who are carrying (prenatal vitamins).
Since 2015, Ritual has sold more than 1 million vitamin bottles! According to TechCrunch, Ritual is estimated to have raised $41.5 million worth of funds at the beginning of February 2019.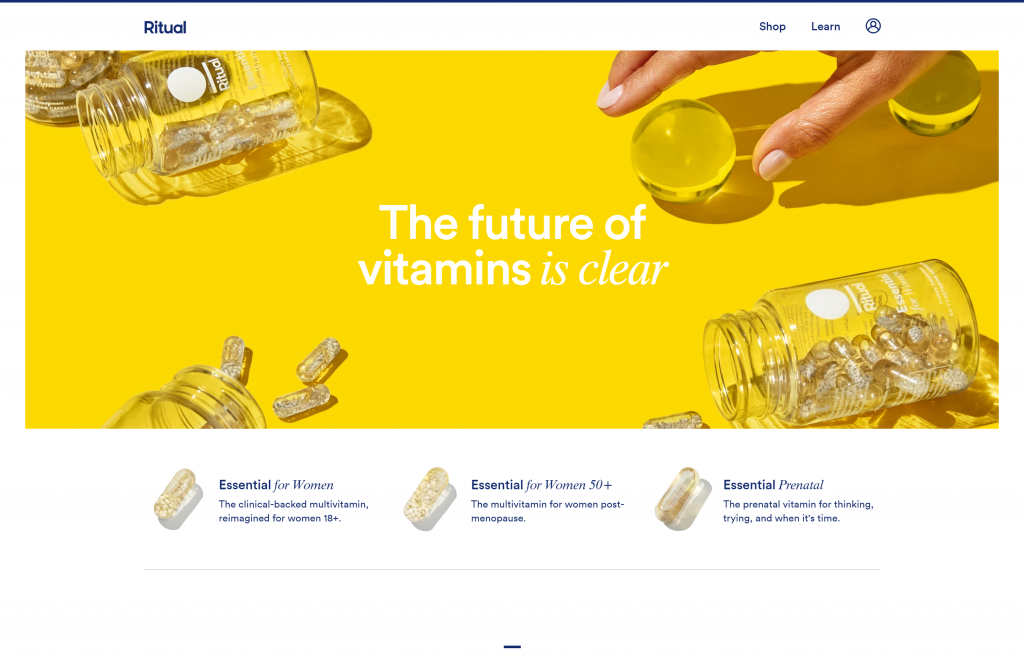 Source: Ritual.com
Overcoming the Challenges of Subscription Models
So, as exemplified by the number of successful brands mentioned above, if you find a niche to cater to, and tailor your subscription service specifically for them, then you're looking at a pretty promising subscription model.
After all, the key advantage your business has over a traditional e-commerce store is convenience.
However, that's not to say that this business model doesn't have its own brand of challenges.
Pricing Your Services and Products the Right Way
Half of the job of setting up your subscription business model for success is pricing your services and products just right.
Pricing will affect your ability to draw in new customers, increase the value of your current customers and reduce customer churn. Basically, it will either stimulate or stunt your business' growth.
Instead, pricing models are much more flexible and customizable.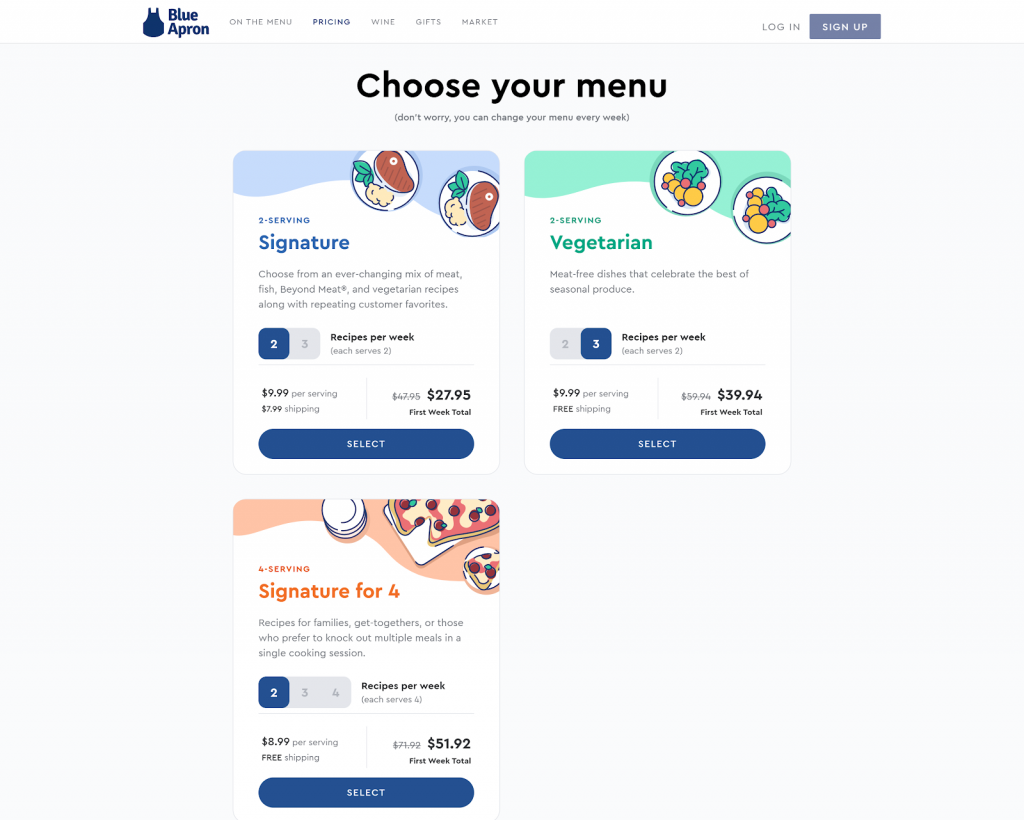 Source: BlueApron.com
SaaS (Software as a Service) models on the other hand, usually include pricing tiers.
For starters, it's generally considered best to begin with either two or three pricing tiers, which you can adjust after a while, depending on customer behaviour and feedback.
For example, you can tailor your subscription business pricing model after usage levels, functionality, and bulk purchases, as well as optimize it to cater to loyal subscribers and customers.
You can set pricing models according to geographic locations or the time of day the service is usually used.
You can offer virtual coupons, freemium options (free trials and free plans/services), benefits for early birds.
Extra tip: once you've set up a price point that you consider ideal, set up another price that'll go above. This way the ideal price will definitely gain more attraction.
Change the Pricing of Your Product/Service
Don't forget to change the pricing of your products/services with time, according to the needs of your business and your customers.
Pricing models change all the time – subscription businesses rarely keep the same price they had when they were starting out. Markets evolve pretty fast, as do customers' needs.
However, this can be a slippery turf, since you also don't want to alienate your customers when you decide to raise the price of whatever it is that you're offering.
Remember Netflix losing 123.000 US subscribers after its price hike earlier this year?
Although that sounds pretty scary, the full account of their pricing change would be that this was most likely a calculated loss on the side of Netflix. Entrepreneur.com's report form July 2019 notes that Netflix counts on a subscriber growth of 7 million new subscribers in the third quarter.
It's likely that once your subscription business grows the costs will as well – you will have to maintain or improve the quality of your products/services, and everything that it entails: manufacturing, storing, shipping, etc.
A good way to buffer the increase in price is to reward your existing customers whenever you can. And, if possible, raise the prices for future customers, instead of your existing base.
Providing Easy and Secure Billing Systems
A fully operational and easy-to-use billing system is one of the most important elements in the subscription business model – nobody wants to get stuck in a complex set of processes to get to a desired product or service.
Customers will have a better appreciation of whatever it is that you're offering or selling if their journey from making the purchasing decision and clicking to "check out" is intuitive and fast.
Customers have all sorts of payment anxiety about trusting you with their personal information online, so your system has to be both streamlined and utterly reliable.
The simpler and the more secure your billing system is, the more your customers will be able to overcome their fears of giving away their personal data and credit card information.
Fortunately for you, nowadays there are many tools that can help out subscription business owners set up their business for success, and this aspect of the business is no exception.
If you use a subscription platform like Subbly to set up your subscription business, that can also help you set up a reliable billing system, as we offer an option for recurring automated billing.
Source: Subbly.co
Embrace Freemium for Customer Acquisition
If you have decided on your pricing tier model and set up a good billing system, you can tweak your pricing system to include a customer acquisition strategy like freemium.
You can't solely rely on freemium as a way of generating revenue in itself, but that doesn't mean it's not an amazing tactic for customer acquisition – as it allows your customers to dip their toes before they commit.
The freemium pricing model can either mean:
a completely free plan with limited features or
a trial that lasts for a limited amount of time (usually 30 days, 7 days, 14 days, a whole month, etc.).
Freemium strategies work best in subscription business models that offer software services, aka the SaaS model (software as a service), which can include other types of digital products and services besides software, such as plugins, themes, etc.
In fact, a lot of software companies use freemium as a strategy for acquiring new customers and potential long-term subscribers.
Some of the benefits the freemium model provides are:
Helping you build more lasting and trustworthy relationships with customers – after all, you're giving them the chance to try out your product/service.
Helping your business out when it comes to MRR (monthly recurring revenue), one of the most important metrics in the subscription business model;
Helping you balance out your CAC (customer acquisition cost).
Another important thing that the freemium option does is the so-called 'network effect'. This simply means that the more people use the service/product, the more valuable it becomes.
According to Profitwell.com, net dollar retention is much higher for freemium products.
Also, the more free users you get, the more likely it is that some of them will stick around and subscribe to a premium service.
For example, MailChimp is an internet service provider that managed to increase their profits by 650% and the number of paying customers by 150% within a year just by introducing their free limited plan (Business Insider).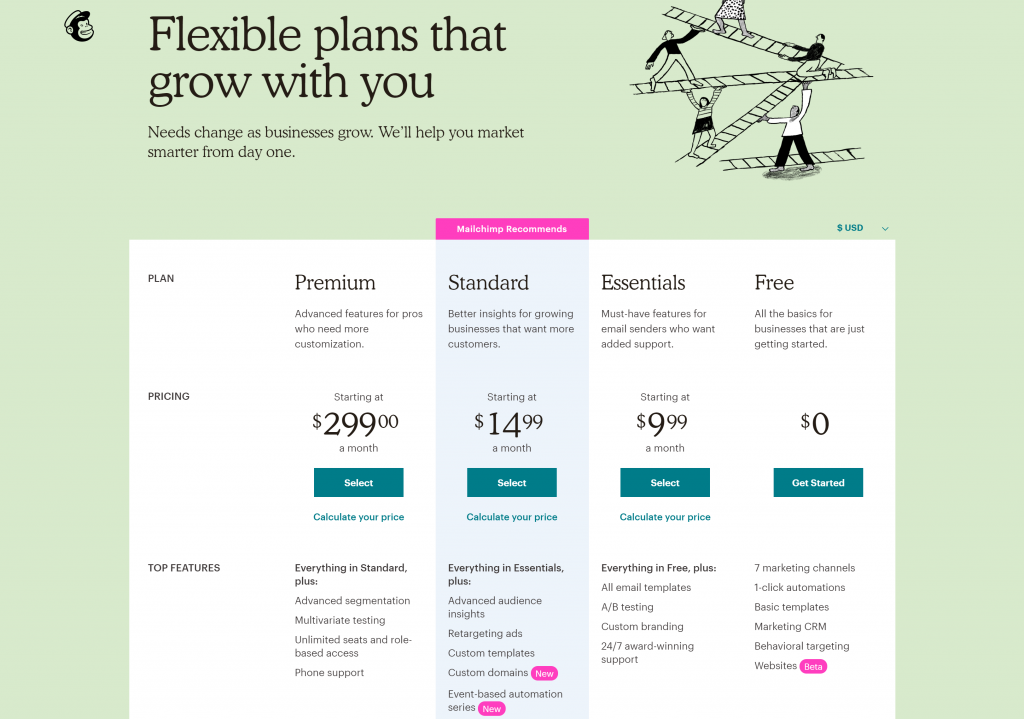 Source: Mailchimp.com
In an overview of Spotify's 2019 financial growth, Quarts magazine notes that the listening platform has seen a 28% growth in revenue compared to last year, largely thanks to embracing "free trials" and free limited plans. Quartz also reports that their paid user base has so far grown 31% year-over-year.
Structuring Your Subscription Business Model for Multiple-Channel Availability
This is as simple as it gets – you want your business available across all the main online channels for both desktop and mobile devices.
This means that your subscription service must have a solid cross-channel strategy for being present across multiple channels such as email, website, social media, mobile app, printed advertisement, retail location, word of mouth, etc.
Optimize for Mobile Access and Multichannel Availability
We'll take this opportunity to remind you about the importance of optimizing your website for mobile. Take, for example, BirchBox: 70% of its traffic comes from mobile devices!
As a successful subscription business, you need to provide an easy and fast customer acquisition process that will work on multiple channels equally smooth.
Here you can read more about multichannel strategies and see examples from successful brands that have implemented them.
On our Subbly blog we have several articles on marketing strategies for your subscription business. You can read about the refer-a-friend marketing tactic, or how to leverage Instagram influencer marketing, or some more general tips on how to market your subscription box and quickly acquire customers.
Reducing Churn Rates
Churn rates are a critical indicator of the health of your subscription business, and at the same time, one of its major challenges. The overall churn rates for subscription businesses are 5.60%, according to Recurly research, but they vary greatly depending on the industry.
So is there some basic checklist you can tick off to reduce them?
The following strategies can surely help!
Engage With Your Customers through Personalized Data
Engaging with your customers is one of the most successful ways of reducing churn rate.
Plus, your subscription business depends on gathering as much data about the preferences and interests of your customers so that you have all the info you need to tailor it to their liking. That's why personalized communication with your customers matters so much.
When you collect enough data to know the personal tastes of your customers, you'll be able to send personalized offers and e-mails, as well as other types of information and stop customers from potentially unsubscribing from your services. According to the same article by CIO.com, this usually happens around the third, sixth or twelfth month of subscription.
BirchBox, Dollar Shave Club, and The Honest Company are just some of the subscription services that do a great job in acquiring customer data in order to prevent increasing churn rates.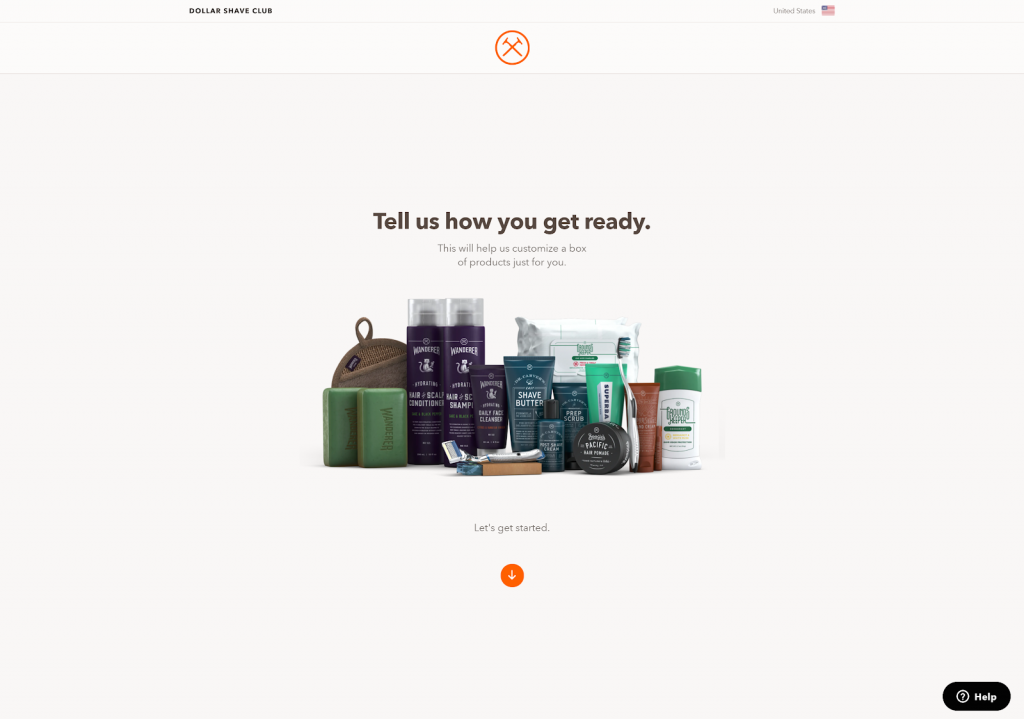 Source: DollarShaveClub.com
If you look at the same BirchBox example we've used throughout this article, you'll see that the team behind BirchBox heavily invested in getting data from their customers – data like reviews and preferences. Just to illustrate: up until 2016, subscribers earned points for every review of a product from their BirchBox)
Make the Renewal Process Super Easy
So, the sad fact is that it's easier for customers to unsubscribe than to subscribe in the first place, so it's absolutely crucial to make your renewal process super easy. And that basically translates to automatic renewal.
Make Sure to Have Good Customer Service
Customer service is an important element of almost every business venture, and subscription businesses are no exception.
When something goes wrong or customers just want to get more informed about a product or a service you're offering, your customer service should always be there to help them. It's part of the backbone of your subscription business and of your professional integrity.
Apart from regularly catering to your customers' needs and answering their questions, as well as giving them quick and on-the-point answers, there are also other things you can do for them.
These include:
Sending emails in which you thank your subscribers for their upgraded subscriptions.
Politely asking them to fill out customer surveys (an amazing tactic for acquiring customer data).
Asking them for reviews on your products and services.
The more customer feedback you're able to acquire, the better your chances of actually improving your subscription business to keep up with consumer needs.
According to Kat Fulton, founder of MusicTherapyEd.com, making sure that "customer support reps bend over backwards to help your subscribers" has really made a difference for their membership business. (CIO magazine)
Final Words
Well, we've come to the end of our article, although by no means have we exhausted the possible tips and brand examples for a successful subscription business model.
What we tried to do instead is give you some of the essentials. Here you can find the most important information you need to know when starting out to structure the business model that will one day grow into your subscription service.
Cheers to your next subscription business venture!