What is Subscription Commerce? 7 Things You Need To Know
Last modified on October 18th, 2021
Don't already know what subscription commerce is? Well, think magazines subscriptions, but for just about anything. That's subscription commerce in a nutshell, and there are two different types:
Convenience Commerce – Receiving the same products automatically on a repeat purchase basis.
Discovery Commerce – Helping consumers discover and sample new products they might not have otherwise known about.
Perhaps the most popular subscription commerce model, at least currently, is subscription boxes. Every month, week or year customers pay a variable subscription fee to receive products personally delivered to them in a box. Be it cosmetics, male grooming products, pet food or movies, mystery and surprise nearly always play a role as you don't always know what you are going to receive. The idea is that it's a play on getting a gift delivered with little surprises as well as getting the products you do need on a continuous basis.
So now that you know what subscription commerce is, here are 7 more things you Need to know about it. (Here's the Slideshare version).
1. Subscription Commerce is also known as 'Subcom'
There a few different names for Subscription Commerce. If you're a consumer, then 'subscription box' is the most frequently used and best known. Other terms include things like 'lazy boxes', and even 'sample boxes' or 'replenishment boxes'. If you're an industry insider then subscription commerce is usually referred to as 'subcom' and it's under this name that it is perhaps best known.
2. Subscription Commerce Isn't New
Here's the first thing you should know, subscriptions aren't entirely new. In fact subscription models have been around for the best part of 150 years in some way, shape or form. However, it was the birth of that little thing known as the internet that gave new life to subscription models in business. As the masses flocked online the demand for an online shopping experience saw traditional brick and mortar commerce evolve into what we know today as e-commerce.
Commerce Timeline:
150,000 years ago, traditional commerce was born. From the minute man could communicate, he was bartering and trading.
eCommerce was invented in 1979 by a guy called Michael Aldrich. He simply a modified domestic television, connected it to a phone line and thus eCommerce was born.
Pizza Hut were actually one of the first major brands to test out online commerce, way back in 1994.
Amazon.com and eBay launch in 1995 and begin pioneering modern day ecommerce, recognised after the course of a decade as two of the most successful ecommerce companies.
In 2005, social networks such as Facebook introduced a new way to to influence buying decisions. This trend was dubbed social commerce and is an important segment of the wider ecommerce market.
In 2010, subscription commerce found new life after the launch of companies like BirchBox who set off the subscription box trend by sending monthly subscribers 4-5 new beauty samples and lifestyle items to try out for just $10.
Ecommerce sales reached $1 trillion in 2012 and is predicted to represent 10% of all retail in the United States by 2017.
In 2014, Forbes estimated that SubCom business Birchbox is generating over $125 million a year in revenues.
3. Subscription Commerce Provides A Constant Source of Revenue
eCommerce empowered small businesses to compete with the big boys. Now, as the space becomes more saturated and competitive, businesses are again striving to stand out from the crowd and increase their revenue. Mobile Commerce, social commerce and subscription commerce are all growing sub-segments of the larger eCommerce market. Subscription commerce is all about turning a single purchase decision into repeat purchase behaviour and allowing retailers of all sizes to take that little bit more comfort in the fact that they have a constant source of incoming revenues on a monthly basis without the need to influence a customer's repeat purchase decision. In times where cash flow is king, it allows them to manage cash flow, business planning and other important metrics such as determining the lifetime value of a customer, churn rates, expansion etc.
4. It's all about Curation, Mystery, Surprise and Value
What makes subscription boxes so popular is the element of Mystery and Value. For as little as $10 per month you can receive a special gift from someone who knows you best… YOU! And this is what makes subscription boxes so addicting. You may not love every item you receive in your box but considering how the contents of many boxes are often worth 2 or 3 times what you actually paid for them, it makes up for the risk. Most boxes are also curated based on your own profile so more likely than not you're going to be happy with the items.
5. It's A Fast Growing Market
In just a short amount of time, the subscription commerce market is already estimated to be worth around $3 Billion, and it's also estimated that by 2015 35% of Global 2000 companies will generate revenue via subscription-based services and revenue models. Dollar Shave Club is one of the most successful subscription box companies. For $1 per month, you get your usual razors automatically delivered on a monthly schedule, but they also go that little bit further by throwing in some "One Wipe Charlies" and other quirky products. Other big players in the Subscription market include Birchbox, ShoeDazzle, BarkBox (a subscription box specifically for your pets) and Graze Box, a food based box delivering healthy tasty treats to your door, however frequently you'd like. Subscription commerce also exists in the digital realm too. Perhaps the most well known online subscription-based business is Netflix. With nearly 50m subscribers, Netflix started out life as a DVD subscription service, but took advantage of emerging digital and mobile technology and internet speeds to become one of the worlds largest video streaming services in the world.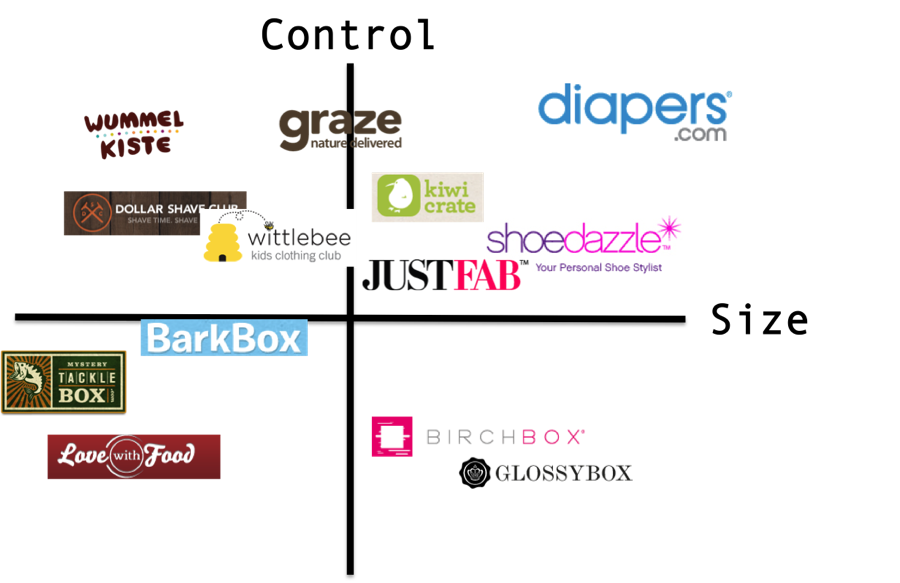 The Subcom business model has been a huge success for niche businesses. In 2013 alone, subscription businesses received over $300 million in funding from Venture Capitalists.
Here's how much Subcom businesses have raised in the past few years:
JustFab ($109M)
BeachMint ($73.5M)
The Honest Company ($27M)
StylistPick ($19M)
H.Bloom ($16.9M)
BirchBox ($11.9M)
Trunk Club ($11M)
Kiwi Crate ($7M)
Citrus Lane ($6.6M)
FabKids ($2.6M)
Wittlebee ($2.5M)
BarkBox ($1.7M)
JolieBox ($1.43M)
Graze ($1.4M)
Quarterly ($1.25M)
Foodzie ($1.02M)
Dollar Shave Club ($1M)
Manpacks ($1M) See more at: http://subscriptioncommerceinsider.com/subscription-commerce-market/#sthash.Fy2HKNzU.dpuf
6. These Are The Top 3 Successful Subcom Businesses To Look Out For
We've already mentioned Dollar Shave Club being one of Subcom's success stories, mainly due to their killer online video marketing campaign in 2012 that saw them get over 12,000 orders in the first few days (If you haven't seen their viral videos, check them out below). But here are the other subcom success stories:
1. BirchBox
In just 4 years, Harvard Business School graduates Katia Beauchamp and Hayley Barna revolutionised the multi-billion dollar beauty industry with the launch of Birchbox, a subcom business that aims to 'cut through the clutter' by sending out sample boxes of beauty and lifestyle products to paying customers from just $10 per month. The boxes are carefully curated and personalised according to the customers profiles. Birchbox has grown from just 600 paying monthly subscribers in 2010 to over 800,000 in 2014 and have shipped over 9 million boxes to date. Birchbox recently raised over $60 million dollars ($70 million to date) and is estimated to be worth nearly $500 million. With over 250 employees spread out globally, Fortune recently estimated that Birchbox is generating over $125 million in revenues a year.
2. ShoeDazzle & JustFab
Founded in 2008, ShoeDazzle is a subscription box service in the fashion space, bringing a personalised boutique experience to an online platform. For $39.95 per month you get a VIP Elite Membership which converts into rollover VIP Credits that members can save and spend later if they require. ShoeDazzle debuts and showcases the best new brand name shoes, handbags and more on a monthly basis and curates a custom online showroom to each members individual style preference. They have received over $66m in funding and a 2013 merger with one of it's biggest competitors, a subscription box service called JustFab saw them become the market leader and is estimated to generate over $400 million in sales in 2014. The combined company now has over 33 million users.
3. Barkbox
It doesn't seem fair that we get our monthly shipments of beauty products, cosmetics and male grooming products and our pets don't, which is why Barkbox was founded in 2011. They have since gone on to be one of the most successful subscription commerce businesses. Matt Meeker, Carly Strife and Henrik Werderlin founded Barkbox as a convenient way for dog owners to spoil their beloved friends every month. Starting at just $19 per month, the subscription service delivers healthy and natural treats along with some cuddly and chewable toys. All the products and treats are made in the U.S and Canada and are not available at any of the big pet retailers. To date, Barkbox has raised nearly $7 million dollars and reportedly has over 70,000 paying subscribers. With over 45 million dog owning households in the United States, the future certainly looks bright for BarkBox.
7. These Are The Most Popular Subscription Commerce Categories
There are thousands of subcom businesses out there, but what categories are the most popular? If you are thinking of launching your own subscription box you may want to consider entering the following:
Fashion
Beauty
Organic Food
Eco Products
Kids, Crafts & Activities
8. BONUS – Here's A Comprehensive List Of Subscription Commerce Businesses
If you really want to check out a list of all subscription commerce businesses then our friends over at www.subscriptionboxinsider.com have collated them for you. WARNING: It's a long long list! Enjoy.