Subscription Services: What Are They & How Do They Work?
Last modified on October 22nd, 2021
Subscription services and subscription as a business model, in general, have been around for quite some time. It was one of the best and most successful means for book publishers to remain in print and maintain a certain level of profit.
Exactly because this kind of business model has proved to be immensely successful over the ages, in contemporary times it has also managed to migrate to the domain of online services.
As many of you already know, subscription services function by way of offering access to services or a type of product to an audience (customers) for a particular sum of money paid at regular intervals.
This differs from service to service – some monthly, some quarterly and some yearly or for the duration of a season. Such is the case, for example, with opera and theater companies.
Subscription services can be a very successful means for customer retention as well as building brand loyalty, since they're often based on one-time sales becoming recurring sales. This is often done by providing freemium subscription services. This means you'll get one month for free, after which you'll have to pay for further access to the service.
That being said, there's a lot of nuance to this topic. That's why in this article, we'll try to shed more light on the subject. We'll cover the different types of subscription models and also provide you with some valuable statistics and background info to back it all up.
BONUS: Want a short overview of what you need to know about online subscription? Read our article about the 7 most important things you need to know about subscription eCommerce, with plenty of examples and insight into the most popular subscription commerce categories.
So What Are Subscription Services?
Before we delve into the types of subscription services, we actually want to say a few words about 'services' as a term, just to make sure there's no confusion.
Services can be used both as a more general term for subscription eCommerce businesses, but also to describe memberships, products, and services that don't necessarily have to be tangible. For example, you have web-design services, site optimization services, consulting services and so on.
In this piece, we'll use both of these meanings which we hope will be properly understood within the context of the paragraphs in question.
What are the Different Types of Subscription Services?
Subscription models usually branch into three main types:
eCommerce subscription;
Membership subscription;
Digital subscription.
These subscription models can be divided into subcategories, which we'll also cover once we're done outlining these three main categories.
Before we begin, we'd like to say that these seemingly separate categories can overlap with each other. That means it's not always so easy to set them apart in a very clear way. That being said, we'll see loads of examples that show us how these subscription services often belong to more than one category/type simultaneously.
eCommerce Subscription
Hugely popular with millennials and "younger urbanites with money" as McKinsey reports, the eCommerce subscription services have grown by 100% every year in the past five-year period. 
These younger urbanites are mostly within the 25-44 age range, with a yearly income of $50k-$100k. McKinsey also reports that "15 percent of online shoppers have signed up for one or more subscriptions to receive products on a recurring basis", mostly enjoying monthly subscriptions. 
If you're one of them, or just interested in subscription boxes regardless of your age, you can check out our article on the best monthly subscription boxes. You can also take a look at the best quarterly subscription boxes, if that's something more up your alley.
Statista.com's survey on the "unstoppable rise" of music streaming services cites Spotify and Apple Music as two great examples. Just the first six months of 2019 saw 30.4 million paid music subscriptions. This yielded music industry dividends "with retail revenues up 17% on last year to $4 billion" and with mid-year revenues increasing their wholesale value as well, rising "14.6 percent to $2.7 billion."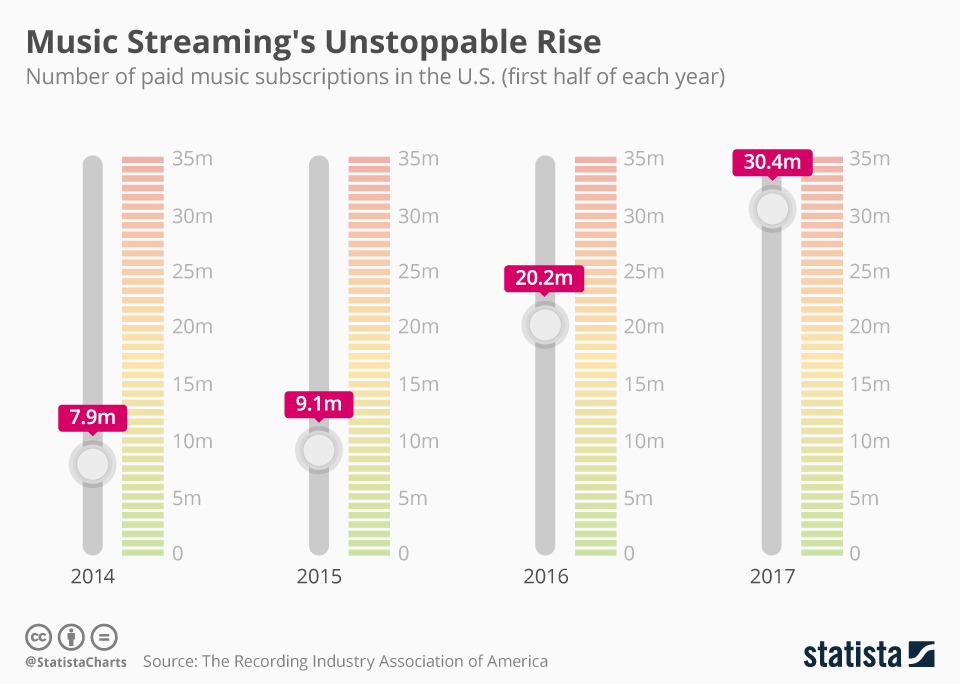 The rise of music streaming platforms (source: statista.com)
Contemporary eCommerce subscriptions are aimed towards providing and delivering a whole new level of high-quality, reliable end-to-end eCommerce experience. This way, young and affluent city dwellers get to have a shopping experience that's both personal and contemporary, as well as low-cost and more efficient in general. Young people nowadays have strong opinions, know what they want and are definitely not going to pay for a product just because they need it. It also needs to come with a particular story, or to be somehow relatable.  
In order for new eCommerce subscription service providers to avoid increasing churn rates, they simply have to make an effort to develop more personal and tailored relationships with their clients and consumers that are going to last for a long time.
The great thing about eCommerce subscription services is that they provide mutual benefits. Both consumers (or subscribers) and the service providers (the companies behind them) get to have a nice slice of the pie. Whether it's revenue or superb services, both parties can have the good life – customers get to have control over the products they get without too much effort, and the company gets to have a stable, recurring income and growth.
eCommerce subscription is, however, a vast field of its own, as you know by now. It involves a whole plethora of services that will take pages and pages to mark down, from style and fashion products (a real superstar here is – you guessed it – Birchbox!) to grooming products with the pioneering Dollar Shave Club. We also have the ubiquitous Amazon, which provides a variety of eCommerce services.
This being said, let's have a brief look at the types of subscription services within the eCommerce model. Generally, there are three types:
This is a type of subscription service that provides customers with curated products from the service.
The special thing about it is that it always maintains the element of surprise, especially if the collection of the subscription company is versatile and varied, and gets regularly updated with new and exciting products. Also, the collection becomes more and more tailored and personalized the longer the customer renews their subscription. This is by far the most dominant category when it comes to subscription services, making up 55% of the total subscriptions for the past year, according to McKinsey. 
If this is the subscription service type you're interested in, you're welcome to check out our articles offering advice on how to start a subscription box business and the best ways to choose products for the subscription boxes. We can also offer practical advice on packaging materials for the subscription box, and everything related to the rolling-up-your-sleeves type of work, including shipping your products and saving money while you're at it. 
This type gives additional access to customers to certain products or services once they subscribe, allowing them to get discount rates as well. A good example for this is Amazon Prime or YouTube Premium. These amount to 13% of users subscribed, according to the same data analysis by McKinsey.
With this subscription type, customers can get regular shipments of particular products for low prices that often cost lower than retail ones. These are usually everyday products such as household and grocery items, pet supplies, baby essentials, beauty and health products, and the like.
A very well-known example of this is Amazon's Subscribe & Save, which allows customers to save up to 15% on auto-deliveries and also includes free shipping. According to the McKinsey analysis, these take up 32% of the overall subscription services percentage.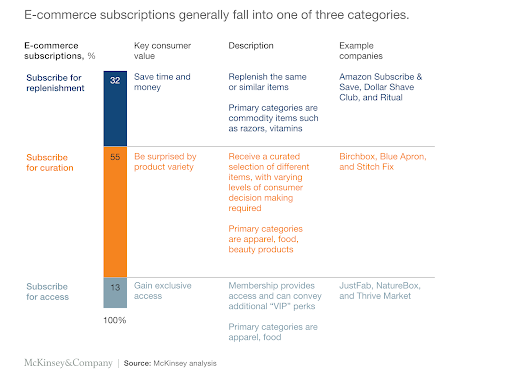 Percentage of subscribed customers for the three main categories of eCommerce subscription services. (Source: McKinsey.com)
eCommerce Subscription Trends
It's evident that eCommerce subscription services aren't going anywhere anytime soon. If anything, the number of subscribers is only going to get bigger as products and services become more personalized and more efficient in delivering just the right stuff to the customer's front door.
Besides, statistics are also pretty straightforward when it comes to this:
McKinsey reports that more than half (above 50%) of eCommerce service subscribers have at least two active eCommerce subscriptions.
The past year marks an increase in 15% of online shopping (eCommerce) subscription services.
Large subscription services see a growth of online revenue of over $2.6 billion in 2016, as opposed to $57 million in 2011. (see also the McKinsey analysis).
And while women tend to subscribe more, generally speaking – with 60% of overall eCommerce subscribers being women – men, however, have a 50% higher tendency to have more than one subscription. In percentages, this translates into 42% more likely to have 3 subscriptions, and 28% more likely to have more than three active subscriptions. The number of subscriptions between men and women differs significantly – where 18% of male subscribers are subscribed to at least 6 eCommerce services, female subscribers amount to only 7%.
But, when we look at it from a bird's eye view, the majority of eCommerce subscribers – a fine 58% – actually have several active online subscriptions.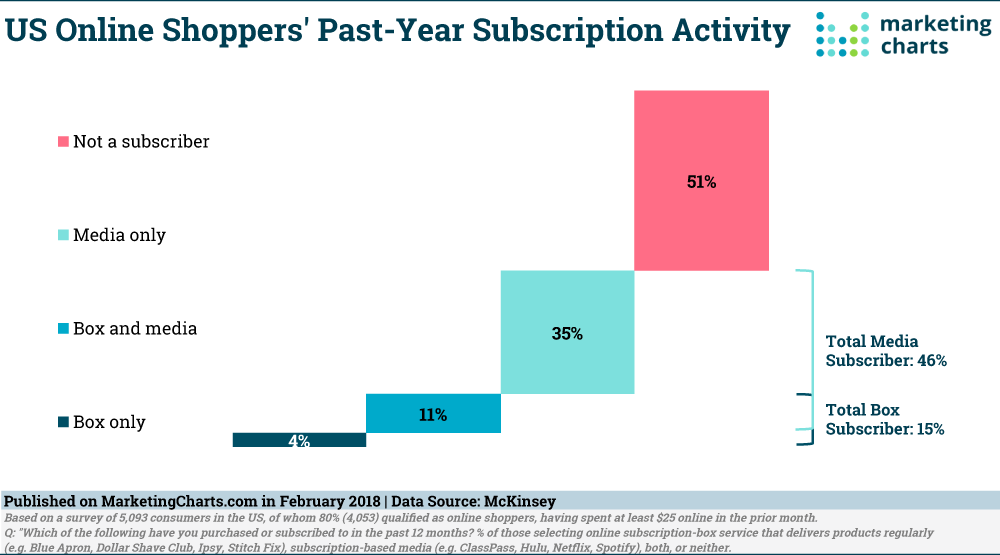 Percentage of US subscribers for 2018 (Source: marketingcharts.com)
Membership Subscription
Everybody wants to belong to a club. And that is what essentially membership is – whether it's a gym membership, a supermarket membership, a sports club membership, or membership connected to some organization, a newspaper or an online magazine. It all has to do with being a part of something, belonging to a group that shares your values, activities, and opinions.
Most eCommerce subscription services offer a membership type of subscription. The membership part of a subscription membership gives customers additional insight and benefits when it comes to the services and/or products offered and provided by the particular subscription business. 
This means that customers can often get discounts to a range of products (or services) – like, for example, if you become part of Target's circle or Target's loyalty program (which is the equivalent of a membership subscription), then you'd certainly get to have some extra discounts and low, warehouse prices on their various products as well as access to items that regular customers simply don't have.
The subscription part of the whole 'membership subscription' concept has to do with the sum of regular interval payments that a customer agrees upon when becoming a subscriber to a particular service. The key here is the annual, quarterly or monthly revenue that's being generated by customers, which in turn allows them to have all the membership benefits and options. 
Membership vs Subscription
We don't want to sound confusing here, so we're just going to try and clarify something: when it comes to membership subscriptions, it's definitely possible to have one without the other. You can become a member of a particular service provider and not be obligated to pay a regular fee (which is, in fact, the subscription part).
A lot of supermarkets offer this, as well as other service providers that grant you a membership card free of charge. Provided you show continual loyalty and use their services frequently, you get to receive certain benefits. Or, you could also become a subscriber without being a member and only focus on the shipping and receiving part of the products you need (think Amazon Prime as a very fine example of this).
Sometimes, however, you might also be able to encounter the terms 'membership' and 'subscription' used simultaneously, so keep that in mind as well if you come across it (which is not that uncommon).
Membership and subscription enhance one another and offer the best of both worlds. They allow for a more tailored and personal subscription experience that allows customers to connect with other members. If people feel like they belong to some wider circle of shared interests and experiences, they're more likely to stay members, remain content customers/clients and also even recommend the service to their friends and family members.
A fine example of a subscription membership is the one offered by airline companies and lounge service providers. Priority Pass is one such company that gives you options for three types of membership plans, billed annually.
Digital Subscription
Digital subscription refers to eCommerce services that can only be provided digitally, aka primarily and exclusively through some sort of online platform. The categories of digital music subscription and digital video services (also often called subscription-based media) are probably the prime examples in this category, as you may have already guessed. In fact, 46% of people, according to the McKinsey analysis, are subscribed to a digital media service of the likes of Netflix or Amazon Prime Video.
Digital Subscription Examples
The companies named here are currently the most successful enterprises in the field of digital subscription services:
AppleTV
YouTube Premium
Netflix
Hulu
Amazon Prime Video
Apple Music, Spotify, Deezer, and other similar digital music services
Digital newspapers and magazines
A lot of services transfer to the world of online platforms, making digital subscription one of the most successful subscription types. It also makes it one of the most promising ones when it comes to generating future revenue.
Let's consider some of the following numbers. The most popular type of digital subscription is VoD services, the aforementioned Netflix, Hulu, Youtube Premium, AppleTV and the like. Streaming media content for a fixed price billed monthly, or the SVoD model (or Subscription VoD), is the most popular one from the three main VoD models – the other two are the TVoD, or Transactional VoD, which means you pay per piece of content delivered, and also there's the EST or electronic sell-through, which means that customers get permanent access to a piece of content.
According to Statista's analysis, 2018 marks 283 million SVoD users, while this number is expected to rise to 411 million by 2022.
Digital Subscription Service Trends
Digital subscriptions are most attractive to younger users (within the age range of 18-24), who spend 39 minutes a day on average using this type of VoD service. Here, we're talking about massive and ever-growing libraries of movies, TV shows and other related types of acquired media content, as well as original media content created with the money of the very service providers (Netflix has been most successful in this field, counting 1257 hours of original content and 300 original titles).
Having a wealth of media content with only a click of the mouse, as well as very affordable monthly billings, digital media subscriptions are bound to eventually replace cable subscriptions, or at least greatly surpass them in the next 5 years. As researchers from Statista claim, "Netflix and Hulu have the highest 'value for money' ratings of any video entertainment platform, making it easy to understand why SVoD is seeing so much success".
Something similar is happening in the digital music industry. According to one of the numbers of researches done on Statista regarding digital music services and subscriptions, in 2019, revenue in the field of digital music counts $13,175 million ($12,214 million in 2017). By 2023, this is expected to grow to $14,500 million, or 2.4% per year.
Another research that looks more closely at the segment of music streaming (the largest segment from the digital music services) marks a revenue of $11,110 million in 2019 (compared to $9,614 million in 2017), which is expected to grow 4.1% each year, coming to 13,051 million by 2023.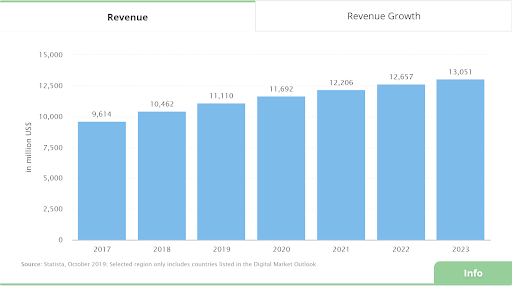 Music streaming segment revenue from 2017 to 2019 in USD. Source: Statista.com
What Does the Term "Subscripton Services" Include?
Have in mind though, that digital subscription services don't include only streaming services – this is only a chunk of the field. There are also a variety of products and services offered by website platforms such as WordPress and the like, as well as products and services related to them in various ways: think of themes, plugins, and other types of tools created specifically to optimize sites.
There are also a number of web design services, site optimization services, digital marketing consulting agencies and other types of digital service templates. These digital products are oftentimes offered for subscriptions, billed annually, monthly or quarterly, although there are options for one time purchases as well.
Subscription Services – The Final Verdict
Subscription services aren't the easiest of eCommerce business models. Mention to a customer that they'll have to pay every month for a product and you'll see their hair stand on edge. But, it's not like subscription doesn't come with a whole set of its own particular positive sides, both for owners (check this article on subscription eCommerce to see what's in it for you!) and for customers as well.
When it comes to subscription services, the key thing is to convince clients and customers that they're receiving a superb end-to-end experience and that they get to save money in the process. The services must also be able to provide a customized shopping experience and offers that are highly relevant to individual customers. In that regard, McKinsey calls this the "heartbeat of modern marketing", which says enough about the importance of personalization in contemporary online businesses.
Product recommendations, replenishment, back in stock reminders, personalized discounts, and loyalty rewards are an important part of maintaining a successful and relevant subscription service in 2019, and in the (near and not so near) future.
Good online reviews, word of mouth recommendations as well as regular recommendations are also part of the equation of success (this is especially important when it comes to the access and box/curation eCommerce subscription models).
It's important to create and maintain the perfect balance between offering new and cutting edge products that would spark interest in your customers, but also motivate your customers with discounts, and the constant quality of the products and services they already enjoy and are used to.
Subscription Services Have a Lower Profit Margin
The structure of subscription services is a tad different than regular types of businesses. First of all, the profit margins are lower, because that's one of the easiest ways to retain (but also to convert) customers. How else would anyone want to stick to the service months on end? It takes patience and determination to provide the best customer experience possible. Once there is a large enough number of customers that have remained subscribed, well, that's when you'll start to notice the increase in profits.
Sure, it's a risky business. There are difficulties in converting and retaining customers, and owners of subscription type businesses definitely know this. The McKinsey report says that only 55% of potential subscribers actually do subscribe in the end. Replenishments fare best in these types of services, with a 65% conversion rate, while box/curation and access stand hand in hand with 52% and 51%, respectively.
However, Subscription Services Aren't Going Anywhere
But, as we saw in the sections above, eCommerce service subscriptions aren't going anywhere, not in the near future at least.
Consumers like consistency and once they find their thing, it's very likely that they'll be there for the long run. 
Replenishments here also fare much higher than the other two models – 45% of subscribers have remained for at least a year, which is 10% more than the percentage number of subscribers for the box/curation and access services. McKinsey notes that "Amazon Subscribe & Save, the Dollar Shave Club, Ipsy, JustFab fashion, and Loot Crate" as the top subscription services that have managed to retain a large number of customers for the longest period of time.
If you have the patience and the determination to endure an initial period of uncertainty, subscription services are certainly a worthy run for your money, since you're very likely to reap the benefits for a long time to come! Afraid of the challenges involved in starting a subscription business? Not to worry! Read more about the practical solutions for common challenges in the subscription business and start your next subscription services adventure without any fear!